Myth vs reality: Govt junks rumours, says no plans to scrap Rs 100, Rs 50 notes
Updated on Nov 17, 2016 02:02 AM IST
Seeking to dispel rumours, the government said on Wednesday there was no intention to demonetise Rs 100 and Rs 50 banknotes or seal bank lockers and freeze jewelleries.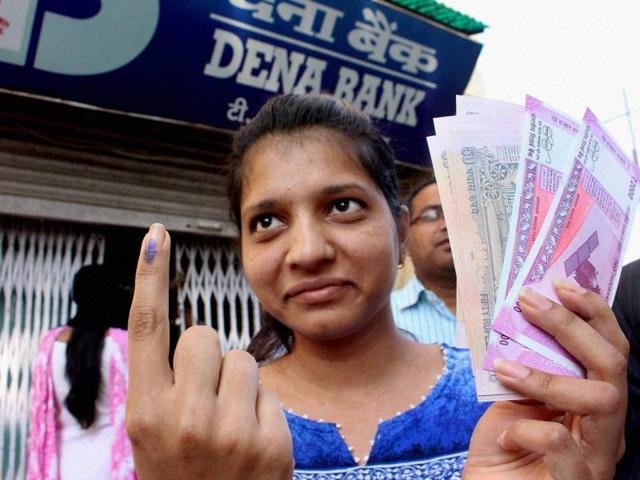 Seeking to dispel rumours, the government on Wednesday said there was no intention to demonetise Rs 100 and Rs 50 banknotes or seal bank lockers and seize jewellery.
In a series of tweets, the government listed the "myths" doing the rounds after Prime Minister Narendra Modi's surprise announcement to scrap Rs 500 and Rs 1000 notes last week, while it presented the contrasting "realities" in an apparent attempt to quell confusion among citizens. Modi had also announced the introduction of new Rs 2,000 and Rs 500 notes in a different colour and design.
The move to withdraw these high-value notes – which the government said was aimed at rooting out black money and corruption – has sparked chaos and confusion across the country, with millions of consumers queued outside banks and ATMs to change a limited number of old notes for new ones or withdraw cash.
On Wednesday, the Press Information Bureau (PIB) said there was no plan "of cancelling legal tender status of notes of any other denomination". In another tweet, it said there was no proposal to seal bank lockers and freeze jewellery.
Read | There's little connection between cash in economy and corruption
On complaints that Rs 2,000 notes are of poor quality and bleed colour, the government said it was a security feature.
"Currency notes have a security feature called intaglio printing. The first test for a genuine currency note is to rub it with a cloth; this creates a turbo-electric effect, transferring the ink colour onto the cloth," it said.
Dismissing rumours that Rs 2,000 note is fitted with a chip, the PIB tweeted that such an idea was just a "figment of imagination".
Contradicting allegations of opposition parties that information on the demonetisation move was leaked to certain beneficiaries before the announcement, the PIB said "complete secrecy" was the motto of the government.
Cash rush to continue
An intelligence report attributed the unprecedented rush to banks and ATMs to a huge gap in demand and supply of currency notes.
Based on a report prepared by the intelligence agencies, home ministry officials said there has not been enough money in circulation, PTI reported.
To dispense the new Rs 500 and Rs 2000 banknotes, ATMs need to be recalibrated. Finance minister Arun Jaitley said on Saturday that it will take up to three weeks for all two lakh ATMs in the country to be recalibrated.
A government official said it will take one more week to recalibrate half of the cash-vending two lakh ATMs to dispense the new banknote series.
Personalise your news feed. Follow trending topics