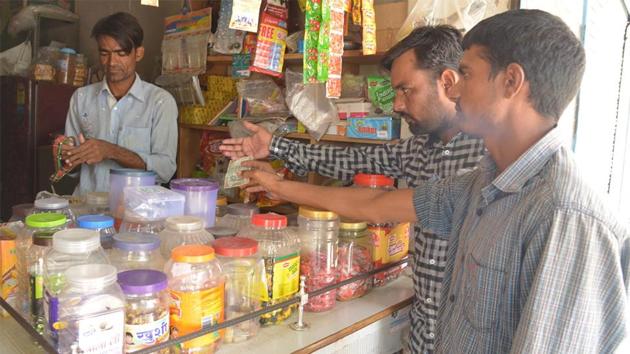 New GST rates effective from November 15, but goods in stores may not cost less
Most companies have communicated the price changes to wholesalers, stockists and retail partners, requesting them to sell at the new prices, but it will be difficult for them to control the entire retail market.
Hindustan Times, New Delhi | By P Suchetana Ray and Sounak Mitra
, New Delhi
UPDATED ON NOV 15, 2017 11:20 PM IST
Starting Wednesday, consumer packaged goods such as shampoo and detergents should have cost less, thanks to the cut in the Goods and Services Tax effective November 15, but this didn't happen because companies can't immediately change the prices displayed on products already in stores.
Most companies, including Dabur Ltd, ITC Ltd, and Hindustan Unilever Ltd have communicated, or are in the process of communicating, the price changes to their wholesalers, stockists and prominent retail partners, requesting them to sell at the new prices, it will be difficult for them to control the entire retail market of India. Experts say that there are 9-10 million retail shops in India.
"The effect of this communication will only be on urban and metro retailers, but rural retail forms our biggest market, and prices there cannot be controlled like this. It has to be reflected on the MRP," said an executive at a top consumer packaged goods company who asked not to be identified.
In its meeting on November 10, the GST Council decided to cut the rate on 178 items from 28% to 18% , effective November 15.
The law is clear that the prices have to change.
"Shopkeepers have to charge the reduced GST rate from November 15, otherwise action will be taken. The price benefits due to lower GST rates has to be passed on to consumers," CBEC chairperson Vanaja Sarna told HT.
The CBEC chief was referring to legal action that complaints of wrong MRP entails under anti-profiteering provisions.
But there are logistical difficulties.
"The old stock will be sold at old prices and we cannot control the retail sales of those, but once the new stock hits markets, it will have the new slashed rates," a second executive at a food and consumer goods company said on condition of anonymity.
The confusion over price apart, the cut in GST will help boost demand, say executives.
"We are in the process of evaluating the impact of the GST cut. We will bring down prices but the exact Quantum is still being worked out. This is a welcome move and will certainly help improve the business and consumer sentiments," said Lalit Malik, CFO of Dabur India Ltd.
For the time being, till the new stock hits the market, consumers would do well to look at the small print said an expert.
"Reduction in rate has resulted in confusion amongst consumers as well retailers. For retailers, they have to sell at a price lower than MRP almost by 7-8% and pass on the benefit of reduction of GST rate on existing stock. If they don't then they will violate the anti-profiteering provisions. On the other hand, the manufacturing or importers would have little control on the retailers to ensure they sell below MRP. Casting doubts whether the consumers would really end up getting the benefit on such reduced rate," said Priyajit Ghosh, partner, indirect tax at KPMG India.
Close