News updates from Hindustan Times: 11 bodies recovered from Madhya Pradesh well and all the latest news
Here are today's top news, analysis and opinion at 1 PM. Know all about the latest news and other news updates from Hindustan Times.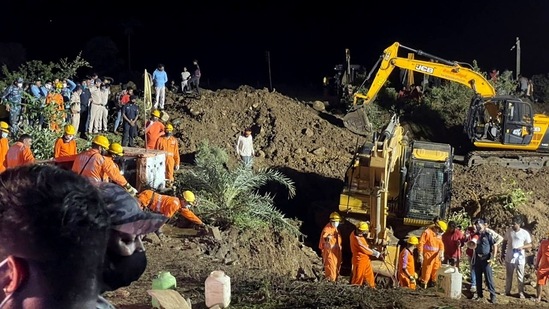 Published on Jul 17, 2021 08:50 AM IST
Here are today's top news, analysis and opinion at 9 AM. Know all about the latest news and other news updates from Hindustan Times.
11 bodies recovered from Madhya Pradesh well, PM Modi offers condolences
Eleven bodies have been recovered and 19 people rescued from a well, which collapsed on Thursday during a rescue operation to pull out a boy, in the Ganjbasoda area of Madhya Pradesh's Vidisha district, according to a report.
Read more.
Centre warns of third wave, says no herd immunity in population yet
India will have to watch out for the signs of a third wave of the pandemic over the next 100-125 days, and people will have to adhere to all Covid-19 appropriate behaviour. "If we all decide, then there will not be any third wave," said Dr VK Paul, NITI Aayog member (health).
Read more.
Sabarimala temple opens; RT-PCR report or vaccine certificate must
Sabarimala temple has reopened for five days from July 17 to July 21, officials said, adding that pilgrims wishing to visit will be allowed to enter the shrine only if they show a Covid-19 vaccination certificate of both doses or a negative RT-PCR report issued within 48 hours.
Read more.
Taliban denies role in photojournalist Danish Siddiqui's death, says report
The Taliban has said it does know how Indian photojournalist Danish Siddiqui was killed and expressed regret over the Pulitzer Prize-winning journalist's death in Afghanistan's Kandahar during clashes between its fighters and Afghan forces.
Read more.
Disha Parmar dances the night away with Rahul Vaidya in sequin saree during reception
Singer Rahul Vaidya and actor Disha Parmar continued their wedding festivities with a grand reception on Friday night. The pictures and video of the couple have been doing rounds on social media. Disha looked exceptional during the celebrations as she slipped into a shimmery silver saree for the function, which took place in the late evening.
Read more.
Salman Khan wishes Katrina Kaif 'lots of love' as she turns 38, can't take eyes off her in throwback photo
As Katrina Kaif turned 38 on Friday, many of her industry colleagues, including Kareena Kapoor, Ishaan Khatter, Anushka Sharma and Arjun Kapoor, took to social media to wish her. Salman Khan also dedicated a special birthday post to her.
Read more.
Arnold names cricketer who can be difference between winning and losing in Sri Lanka
Arnold said India have the likes of Shikhar Dhawan and Hardik Pandya on their side but he would go 'out of the box' and name Shaw as the player to watch out for in the upcoming three ODIs and three T20Is.
Read more.
PM Modi revamps 2 Gujarat stations, one replete with a 5-Star hotel
The needs of 21st century India won't be fulfilled with the ways of the 20th century, Prime Minister Narendra Modi said on Friday, stressing the need for reforms in the railways, as he inaugurated multiple development projects in Gujarat, including the redeveloped Gandhinagar train station.
Watch here.
Close Story