No more animal power: ATVs, drones may replace army's mules in high altitude
The Indian Army's animal transport (AT) units consist of sturdy mules and are currently used to access remote outposts located at heights of up to 19,000 feet. Each mule can carry a load of upto 40 kgs.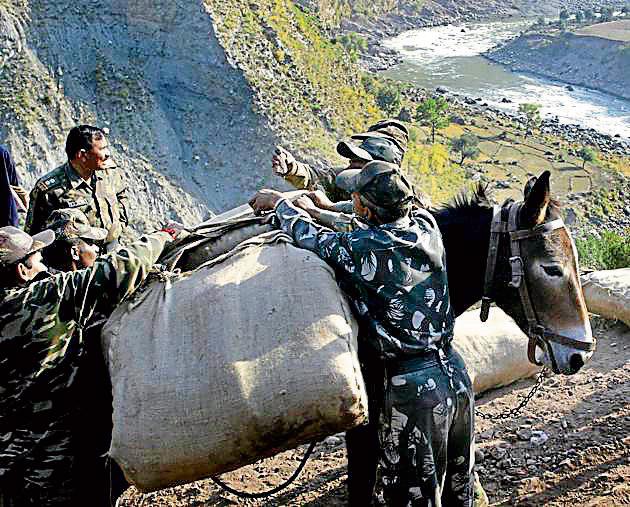 Updated on Apr 10, 2017 07:08 AM IST
The Indian Army's mules could soon be a thing of the past with the force working on a proposal to deploy all-terrain vehicles (ATVs) in mountainous areas to ferry weapons, ammunition and stores.
It is also exploring the possibility of using drones to support its high-altitude deployments.
The army's animal transport (AT) units, consisting of sturdy mules, are currently assigned the responsibility of supporting some of its remote outposts located at heights of up to 19,000 feet.
An army report has highlighted the need to deploy ATVs in the northern and eastern sectors to assist swifter movement of stores and equipment through rugged terrain. If the army has its way, such vehicles could replace mules in two years.
Mules serve the army in large numbers and played a crucial role during the 1999 Kargil war.
"Construction of roads and tracks in these areas is time consuming and requires massive effort in terms of reconnaissance and surveillance, construction equipment and subsequent maintenance, mandating a complete revision of operational plans in a specific sector," said the Army Design Bureau (ADB) report, making a strong case for exploring other options such as ATVs and drones.
In two back-to-back reports, the ADB has listed 78 problem areas that need to be addressed to provide the best protection to frontline soldiers and develop new weapons and systems for battlefield triumphs.
"A mule can carry only 40kg load. The army has to find smarter solutions to transport stores in high altitude. A mix of ATVs and drones will allow us to carry more load at a swifter pace," said Lieutenant General Subrata Saha, who retired as the army's deputy chief on March 31. The ADB reports to the deputy chief.
An initiative of the Modi government, the ADB was set up last August to promote research and development and act as a bridge between the force and the private sector to meet the army's requirements.
"At present, the troops operating in rugged areas are required to traverse vast distances on foot, which imposes time penalty and exposes troops to undue fatigue," said the 119-page report on Future Core Technologies and Problem Statements.
"In the absence of roads in forward areas, it is important that the mobility of the troops is enhanced by providing some variant of ATVs."
The army has done some innovation at the local level with the use of rope ways and modified load carriers but the methods have only been partially successful. On why the problem needs to be solved on priority, the report said, "During active operations there is a need for small teams to deploy rapidly…Need for air-portable, light-weight, ATVs is felt to speed up the movement of these troops with their stores and equipment."
Close Story