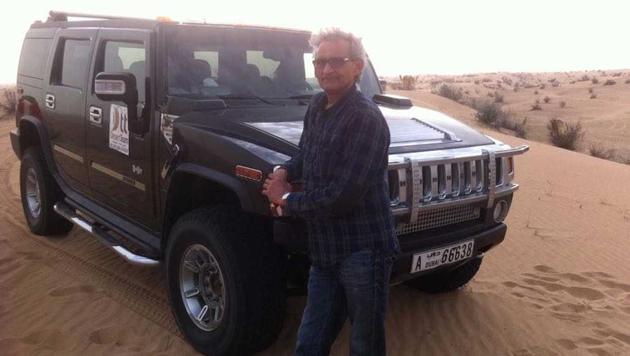 Indian-origin businessman duped by Indians threatens to go on hunger strike
A 60-year-old Swedish national of Indian origin has threatened to go on a hunger strike, saying authorities in India have failed to act on his complaints after two Indians cheated him of his life savings
UPDATED ON NOV 14, 2017 05:44 PM IST
A 60-year-old Swedish national of Indian origin has threatened to go on a hunger strike, saying authorities in India have failed to act on his complaints after two Indians cheated him of his life savings.
"I have written to the minister of external affairs in India Sushma Swaraj that if the investigating agency will not promptly act in my case, I will go on hunger strike right in front of the minister's office till I die. I am left with no option now," Mukesh Upadhyaya threatened.
"How will the image and reputation of India look like in the eyes of the world?" he asked.
Upadhyaya said he has travelled from Sweden to India for a half a dozen times and approached the Union home minister Rajnath Singh and Swaraj through the Swedish embassy in New Delhi.
"Besides, I have visited the offices of various secretaries, directors, DGPs of states and the office of the Prime Minister but till now no direction has been issued to the investing agency to expedite my case," he added.
According to Upadhyaya, he invested his life savings of $10 million into a Dubai-based chemical distribution company Triumph Expolink General Trading LLC but was duped.
The two Indian promoters of Triumph Expolink, Jibu Paul and Ajay Kumar Gangadharan, convinced Upadhyaya and some other European businessmen to invest about $70-75 million for the trading of crude oil to India from Oman.
Soon, all the investors realised it was a trap and that they were defrauded. Both Paul and Gangadharan fled to India somewhere between March 2014 to June 2014 leaving them running for justice.
The courts in the United Arab Emirates (UAE) held both of them guilty of financial fraud and convicted them for three years in May and September 2015 in two separate judgements but they never served the sentence as they are yet to be arrested and sent to Dubai.
The Interpol Abu Dhabi, UAE, issued several Red Corner Notices to the National Central Bureau (NCB), the Interpol wing of the Central Bureau of Investigation, in 2015 against the two who belonged to Kerala.
Upadhyaya, however, alleged that the agency has neither issued any appropriate directions to the police authorities of the states nor has it directed the immigration authorities such as airports about the notices.
He said he knew about the movements of Paul and Gangadharan through his sources in India and informed the NCB but the investigating agency did not act.
"In the recent past, these criminals have flown several times to and from India even via Kathmandu, Nepal and also within India too but the authorities have their eyes closed," Upadhyaya said.
The CBI didn't respond to Hindustan Times' queries about Upadhyaya's allegations.
Upadhyay's company Scansindo AB incorporated under Sweden law is involved in international trading of metals for the last 20 years. He also claimed long-term business relationship with some of the biggest companies in the world including Siemens, Schneider Electric, Areva Alstom, Nippon Steel, and others.
"I have enjoyed an unblemished reputation in the relevant trade circles," says Upadhyaya.
Close