Odisha death toll in Cyclone Fani rises to 16; Puri without power, water
Hindustan Times, Bhubaneswr |
Debabrata Mohanty
May 04, 2019 10:36 PM IST
Officials said the death toll may go up as rescuers are unable to reach several places of the coastal districts which are still inaccessible.
A day after Cyclone Fani wreaked havoc at the pilgrim town of Puri with wind speed in excess of 220 km per hour, the district administration still grappling with the devastation which includes damage to parts of the Jagannath temple.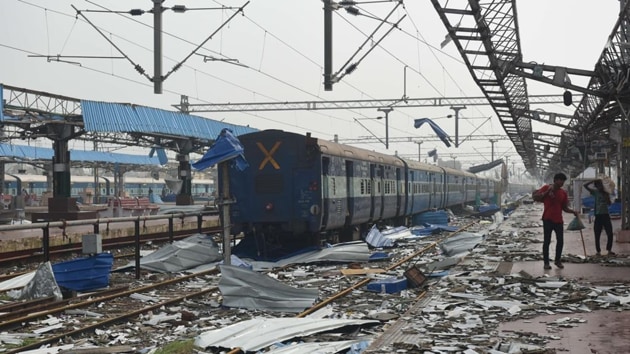 So far 16 people across Odisha have been killed in the cyclone due to wall collapse, falling of trees and flying debris. But officials said the death toll may go up as rescuers are unable to reach several places of the coastal districts which are still inaccessible.
"Till now we are unable to reach disconnected blocks like Krushnsprasad, Bramhagiri and Astaranga. Though we have managed to somehow clear the national highway connecting Bhubaneswar and the roads in the town, many interior roads are still inaccessible. We have pressed NDRF and ODRAF teams for the job. We have opened around 25 free kitchens in the town," said Puri district collector Jyoti Prakash Das.
For people in Puri however the words were of little consolation as sweltering heat and lack of drinking water have made their lives miserable. Officials said it would take at least a week to restore power supply in the temple town.
In Kashiharipur village on Bhubaneswar-Puri national highway, housewife Pushpalata Patra said she is at her wits end on how to feed her kids.
"I have lost my home to the cyclone. There's nothing to eat and not a drop of water to drink. I am forced to buy bottled water. How do I feed my five kids," asked Patra. In Batagaon village, 70-year-old Hatu Jena wept inconsolably over thinking of ways on how to survive after his small grocery shop was blown away. "How do I feed my wife and grandchildren? " asked Jena.
Also read: Towns in darkness, deserted villages: Fani's destructive trail
In Ramchandi sahi slum of Puri, 55-year-old Sushmita Sahu too was distressed over her next meal after she discovered the 10 kg of rice that she stored had turned soggy.
Chief minister Naveen Patnaik said his government was trying hard to help people in the aftermath of the cyclone, but conceded that the challenge was huge.
"Fani is one of the rarest of rare cyclones – the first to hit in 43 years and one of three to hit in 150 years. Because of the rarity, the prediction and tracking of the cyclone was challenging. In 24 hours, one was not sure of the trajectory it was going to take. Fani after landfall, tore apart the infrastructure, especially power, telecom and water supply, " said Patnaik, adding that the districts of Cuttack, Bhadrak, Kendrapada, Jagatsinghpur, Balasore, Mayurbhanj, Keonjhar, Dhenkanal, Nayagarh have also been affected.
In the meteorological centre of Puri, weather officials said Fani was possibly as strong as 1999 super cyclone. "The anemometer in our centre broke after clocking gusts of 148 knots (274 km per hour). This was the strongest cyclone I have ever experienced in my life," said Hrusikesh Panda, the officer in charge of the weather office.
Special Relief Commissioner Bishnupada Sethi said getting power and mobile connectivity was a huge challenge considering that thousands of kilometres of low tension and extra high tension lines have been snapped by the cyclone and hundreds of mobile towers wrenched apart. "By Monday we are trying to restore BSNL connectivity in Puri and Bhubaneswar. We are trying to restore power in large parts of Bhubaneswar by Sunday. In Puri power restoration will take at least a week," he said.
Odisha energy secretary Hemant Sharma said 10,000 electric poles in Bhubaneswar have been completely damaged affecting 30 lakh consumers. Electricity supply will be restored in 25 per cent area of the Capital city, he said. The electric poles and uprooted trees have brought traffic to a standstill on several national and state highways.
Also read: In Puri, Cyclone Fani terrorizes residents, submerges temple town
In Bhubaneswar, the East Coast Railway officials resumed operations on Saturday by running three special trains including one to Bangalore. The Airports Authority of India resumed operations in the afternoon.
The 500 odd hoteliers in Puri who depend on tourists, said they were worried over piling losses. Laxmidhar Sahu, who owns Hotel Shakuntala on the Puri sea beach, said he can't even think of the losses. "The rooms in my hotel are stinking after the cyclone swept seawater. The beds are covered with thick layers of sand. I don't know when will the officials restore power. It will take at least three months to bring my hotel back to shape," said Sahu.
The fishing community in Puri too has been hit badly. In Balinolia sahi, the fishermen were glum over their overturned boats. "Earlier we never feared the sea. But after Fani, we are not even thinking of going to sea. We have never seen the sea so violent," said P Dhananjay Swami.
Meanwhile, PM Narendra Modi said he will visit Odisha on Monday morning to take stock of the post cyclone situation.
"Exciting news! Hindustan Times is now on WhatsApp Channels
Subscribe today by clicking the link and stay updated with the latest news!"
Click here!
Get
Latest India News
along with
Latest News
and
Top Headlines
from India and around the world