Parrikar said he had no role in new Rafale deal: Rahul Gandhi
Hindustan Times, Panaji |
Gerard D'souza
Jan 29, 2019 11:07 PM IST
Congress president Rahul Gandhi met Goa Chief Minister Manohar Parrikar at his office on Tuesday.
Less than 24 hours after targeting Prime Minister Narendra Modi over the Rafale jet fighter deal with a remark that Goa chief minister Manohar Parrikar (the defence minister at the time of the deal) knew "secrets" that gave him "power over the PM", Congress president Rahul Gandhi met Parrikar at the CM's office in Panaji on Tuesday.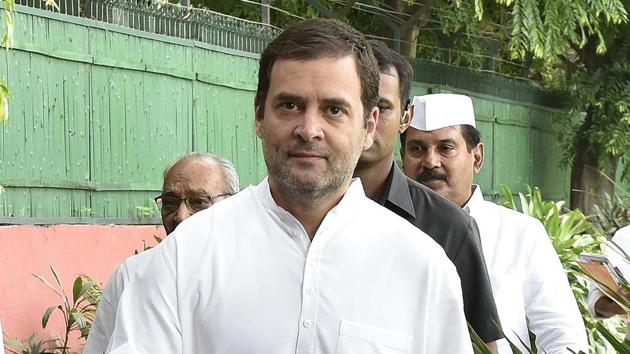 Parrikar attended his office at the government secretariat in Panaji on January 1 for the first time in four months. He has been under treatment for pancreatic cancer. "This morning I visited Goa CM, Manohar Parrikar, to wish him a speedy recovery. It was a personal visit," Gandhi wrote on Twitter.
The meeting between Gandhi, on a private visit to Goa, and Parrikar, lasted about 10 minutes. It came a day after Gandhi referred to a purported audio tape in which a Goa minister claimed that Parrikar possessed files relating to the Rafale deal.
At an event in Kochi later in day, Gandhi said: "Former defence minister Manohar Parikkar said he had nothing to do with the new Rafale deal and Ambani's involvement."
"The result of this is thousands and thousands of young Indians who could have got high-paying technical jobs in HAL today will get no jobs. No defence capability is going to be built here," he added.
Reacting to Gandhi's remarks, BJP spokesperson and South Goa MP Narendra Sawaikar said the Goa CM did not "need any certificate from Rahul Gandhi because Parrikar's integrity and devotion and dedication is unquestionable".
Gandhi was initially scheduled to visit Parrikar's residence but by the time he landed in Goa, the chief minister had left for the assembly. Gandhi then drove to the assembly to meet Parrikar. He was taken inside Parrikar's office by state Congress chief, Girish Chodankar, and leader of the opposition in the Goa Assembly, Chandrakant Kavlekar.
Parrikar told the two Congress leaders that Gandhi had regularly enquired about his health whenever he was in hospital both in India and the United States. Gandhi was also in constant touch with his son, the chief minister told Chodankar and Kavlekar, who later left the two leaders for a one-on-one interaction that lasted seven minutes.
Kavlekar, who accompanied his party president to the meeting, said Gandhi only inquired about the health of the CM.
"Our national president Rahul Gandhi was in the state for a few days on a private visit. He called on the chief minister in his chamber since he has not been well for quite a while now. He spoke to him for five minutes and inquired about his health condition. Upon my request, he also met the Congress MLAs despite being in a hurry," Kavlekar said, adding that Gandhi may visit the state again next month to meet the legislators.
When asked whether there was any discussion on the Rafale files purported to be in Parrikar's possession, Kavlekar replied in the negative. "No, nothing like that took place," he said. Gandhi later left for Kerala to address Congress's booth level workers in Kochi.
Reacting to the visit, BJP leader and the Goa assembly deputy speaker, Michael Lobo, called Gandhi a "tall leader" who had set politics aside to call on the chief minister. "Simple and humble leaders are difficult to find in India and across the world and here it is Rahul Gandhi who has come on a private visit to Goa, made it a point to come and visit Manohar-ji, ex defence minister, to inquire about his health," Lobo said.
Parrikar ,who has restricted his public appearances, also attended the first day of the three-day winter session of the Goa assembly, which began on Tuesday.
On Monday, Rahul Gandhi wrote on Twitter, "30 days since the Goa Audio Tapes on RAFALE were released. No FIR or enquiry ordered. No action against the Minister either! It's obvious that the tapes are authentic & that Goa CM, Parrikar, is in possession of explosive RAFALE secrets, that give him power over the PM."
Gandhi was referring to a leaked phone conversation in which Goa's health minister Vishwajit Pratapsingh Rane is purportedly heard telling an unnamed person that Parrikar told his cabinet colleagues that he had files related to the contentious Rafale deal in his bedroom.
Rahul Gandhi's remark came as reaction to Rane's rebuttal of the allegation in the audio tape. Rane said, "The audio tape is doctored. The Congress has stooped to such a low level to doctor a tape to create miscommunication between cabinet and the chief minister. Mr Parrikar has never made any reference to Rafale or any documents. I have asked him for a criminal investigation into this."
The Modi government's decision to enter a government-to-government deal with France to buy 36 Rafale warplanes made by Dassault Aviation was announced in April 2015, with an agreement signed a little over a year later. This replaced the previous United Progressive Alliance (UPA) regime's decision to buy 126 Rafale aircraft, 108 of which were to be made in India by state-owned Hindustan Aeronautics Ltd.
The deal has become controversial with the opposition, led by the Congress, claiming that the price at which India is buying Rafale aircraft now is ?1,670 crore for each, three times the ₹526 crore, the initial bid by the company when the UPA regime was trying to buy the aircraft. The Congress has also claimed that the deal was changed to benefit Anil Ambani, whose Reliance Defence is an offset partner of Dassault Aviation. The government has repeatedly denied any wrongdoing in the contract. It has also said it has no role in Dassault's choice of offset partners.
The Supreme Court has said it is convinced due process was followed in the deal, and added that it will not be looking into the pricing issue — effectively clearing the government of any wrongdoing in striking the deal.