Kashmir needs hugs, neither abuse nor bullets: PM Modi in Independence Day speech
Aug 15, 2017 11:52 PM IST
Prime Minister Narendra Modi also said India is capable of fighting any security threat on "borders, space or cyberspace".
Prime Minister Narendra Modi urged a more conciliatory approach towards troubled Kashmir on Tuesday, saying problems can be solved by "embracing" the people rather than resorting to abuse or bullets. (I-DAY HIGHLIGHTS)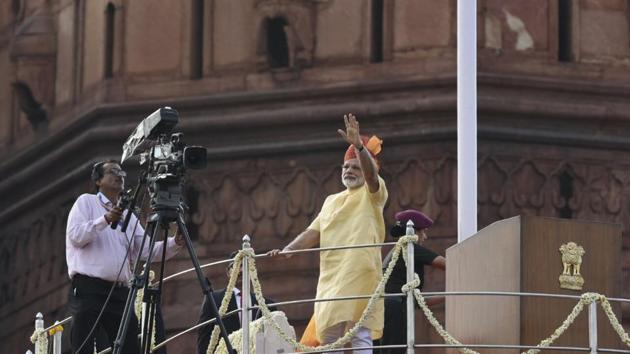 Modi's comment as part of his Independence Day speech signals a possible shift in his policy towards Kashmir, where the government has been pursuing a tough line against a surge in street violence that has killed about 100 people over the past year.
"I am clear in my belief on how to win the war against separatism, which is spread by a handful of people," Modi said from the ramparts of the 17th century Red Fort.
"The problem will be solved neither by abuse nor bullets - it will be solved by embracing all Kashmiris… And we are moving forward with this resolve."
In his 57-minute speech, the shortest of his four Independence Day addresses, the Prime Minister also enumerated his government's efforts at fighting corruption, condemned the use of violence in the name of faith, extolled the country's defence capabilities and outlined his vision of a new India.
The speech was silent on foreign policy with no mention of ties with either Pakistan or China with which New Delhi has been involved in a tense border standoff for almost two months along a disputed stretch in Bhutan. In last year's speech, Modi took a veiled dig at Pakistan, mentioning Balochistan and Gilgit where Pakistani military has been accused of using excessive force.
Modi's Tuesday speech drew criticism from opposition Congress which termed it as "most disappointing" and an "account of the failure of the government". Party spokesman Anand Sharma also accused Modi of trivialising the recent deaths of more than 60 children in a hospital in Gorakhpur by equating them with natural calamities.
In Kashmir, the speech was welcomed cautiously. Moderate separatist leader Mirwaiz Umar Farooq said the region's problems could be solved if "humanism and justice" replaced bullets and abuses.
In a series of tweets, former state chief minister Omar Abdullah said: "The proof of the pudding is in the eating. We look forward to being embraced in the warm grip of understanding, acceptance & respect.
"PM Modi's words for Kashmir have been very well received by people here but everyone here is weary of yet more talk & no concrete action."
Modi also spoke of restoring Kashmir to "the paradise that it was" but made it clear that his government will not go soft on terrorists.
He also used the occasion to condemn communal and caste-related violence at a time when the country has seen a spike in deadly attacks by self-styled cow protection groups.
"Sometimes in the name of faith, some people due to lack of patience end up destroying the social fabric… The poison of casteism and communalism can never benefit the country," he said.
Modi used the speech to urge people to embrace a "New India" where "people are not driven by the system, rather the system is driven by the people".
"Together we will build such an India which will be free from terrorism, communalism and casteism," he said.
"Together we will build such an India where nobody will compromise with corruption and nepotism… an India which will be clean and healthy."