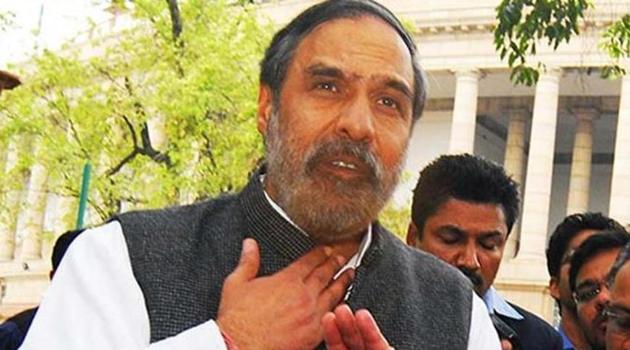 Modi's I-Day speech disappointing, fight against black money a 'sham': Congress
Congress leader Anand Sharma hit out at Modi for making tall claims on the implementation of GST and comparing Gorakhpur deaths with 'natural calamities'.
Hindustan Times, New Delhi | By HT Correspondent
UPDATED ON AUG 15, 2017 03:53 PM IST
The Congress called Prime Minister Narendra Modi's Independence Day speech "most disappointing" on Tuesday and asked him to acknowledge the failure of his government to deliver on its promises to the people, especially the youth, farmers and weaker sections, after three years of ruling the country.
The main opposition party's charges came after Modi listed his government's achievements, including a fight against corruption, promised to deliver a "new India" by 2020, and urged people to denounce religious violence in a speech from Delhi's Red Fort marking the 70th anniversary of India's independence.
Senior Congress leader Anand Sharma hit out at Modi for making tall claims on the implementation of Goods and Services Tax (GST), which has been billed as India's biggest-ever tax reform, that aims to bring Indians to a common market for the first time.
"For seven years, he as the Gujarat chief minister and the BJP in opposition had stalled GST in Parliament," Sharma said.
"The opposition today is responsible as we allowed the constitutional amendment to pass. We did not expect him to completely ignore us and then expect cooperation," he added.
He also attacked Modi for comparing the incident in Uttar Pradesh's Gorakhpur where over 60 children died in the last six days in a state-run hospital over an alleged shortage of oxygen with other natural calamities "in a very trivial manner".
"He should've been careful over such a sensitive issue ... He has not actually registered the gravity of the situation where infants and small children have died due to negligence," he said.
Sharma said the PM talked about the surgical strike in Jammu and Kashmir which had taken place almost a year ago and since then ceasefire violations and attacks from across the border were repeatedly taking place in the restive state.
"The situation there has been allowed to drift and deteriorate … Kashmir is a matter of national concern. The nation supports any initiative that helps in normalising the situation in J-K," he said.
The PM brought up last year's 'surgical strikes' which, he said, made the "entire world acknowledge our power". He referred to the cross-border raids in September when Indian forces destroyed multiple launch pads from where Pakistani militants are pushed into the country.
On Modi's claims about his government's fight against corruption, Sharma questioned the delay in the appointment of Lokpal.
"The country must ask him why in three years the Lokpal has not been appointed. If he believes in his words, he has to be accountable for non-appointment of Lokpal, dilution of anti-corruption laws and RTI," he said.
Sharma said Modi's promise of curbing black money "remains a sham" and that his government has "promoted black money hoarding" and promoted "crony capitalism".
"Why has this government not given an account of how much of black money is there in the money that has come back to the RBI vaults?" he asked.
The Congress leader also took on Modi for ignoring leaders of the freedom movement and his predecessors in his speech.
"The Prime Minister has true to his characteristic style been disrespectful to the memory of his predecessors. He has not talked of those who fought for and gave freedom to this country and who laid the foundation to build a modern and self-reliant India," Sharma said.
"He thinks it is not his duty to give respect and acknowledge the contribution of leaders like Pandit Jawaharlal Nehru and his successors, including Lal Bahadur Shastri to Indira Gandhi, Rajiv Gandhi and even Atal Bihari Vajpayee. He and his government believe only in promoting a personality cult of one individual."
Close