Over 300 tonnes of toxic waste still lying at the Bhopal gas tragedy site
Updated on Mar 29, 2017 03:57 PM IST
The Bhopal gas tragedy, considered the world's worst industrial disaster, killed thousands of people.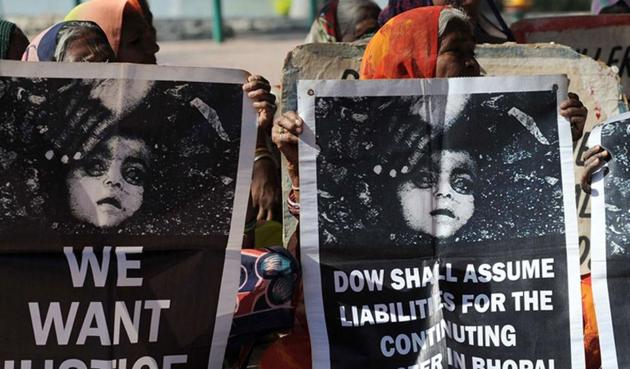 New Delhi: About 336 tonnes of hazardous waste is still lying at the site of the 1984 Bhopal gas tragedy, environment minister for state Anil Madhav Dave told Lok Sabha Tuesday.
No funds have been sought nor any allocation made for the disposal of the toxic material, the minister added.
A leak at the Union Carbide pesticide plant resulted in the death of over 3000 people, and left thousands others deformed.
With the intention of disposing off toxic waste safely, the government has carried out assessment of the material, evaluated its toxicity and arranged for its safe packaging and storage at the site.
They have also identified technology for disposal but only 10 tonnes of hazardous waste has been incinerated till now as part of a trial. The incinerated material does not pose a threat to the environment.
"Ambient air quality around incinerator was found to be within the National Ambient Air Quality Standards for monitored parameters namely, PM10, SOx, NOx, arsenic, lead and benzene," Dave said in response to another question raised in parliament on March 20.
The Madhya Pradesh government floated the idea of a Hiroshima-like memorial at the site in memory of the victims last year, at a cost of R. 180 crore.
Read more: Hiroshima-like memorial for Bhopal gas tragedy victims soon
"The state government will request the Central Pollution Control Board for disposal of the toxic waste lying on the Union Carbide factory premises," Minister of state for Bhopal gas tragedy relief and rehabilitation Vishwas Sarang, said while making the announcement.
Personalise your news feed. Follow trending topics