Over 3,500 private buses to go off road in Himachal from Monday
The bus operators are demanding to hike the minimum fare from
₹
3 to
₹
10 per person, on par with their counterparts in Punjab and Haryana.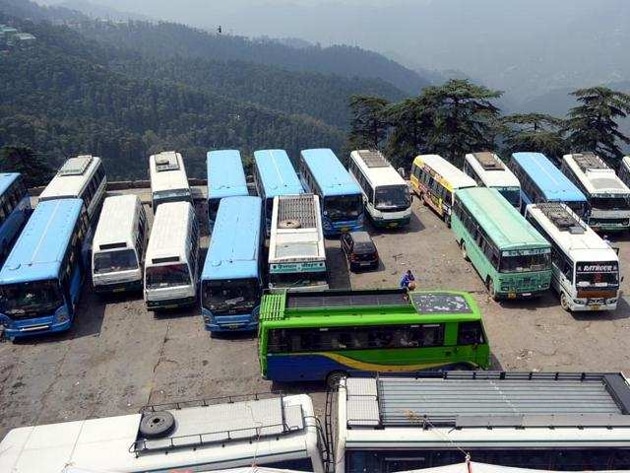 Updated on Sep 09, 2018 09:07 AM IST
Press Trust of India, Dharamshala |
, Dharamshala
Press Trust of India
Over 3,500 private passenger buses will remain off the road indefinitely in Himachal Pradesh from Monday as the operators will go on strike to press their long-pending demands, including increase in minimum fare, bus operators said here on Saturday.
The strike has been called by the Himachal Pradesh private bus operators' union.
Union president Rajesh Parashar said over 3,500 buses, run by over 400 private operators, will observe an indefinite strike from Monday. He said they are demanding to hike the minimum fare from ₹3 to ₹10 per person, at par with their counterparts in Punjab and Haryana.
Apart from 50% hike in the fare, the operators are also demanding that the state government should roll back its decision, which disallows more than five-year-old buses to ply in the state.
Rajiv Mahajan, a bus operator in Dharamshala, said the minimum fare of ₹3 was fixed when the price of diesel was ₹48 per litre and has not been updated since then.
"The diesel price has reached ₹74 per litre. It is impossible to run the services on old rates," said Mahajan, adding that the green tax levied by the government on them must be reduced.
Another bus operator Ajay Singh said most of the operators are reeling under heavy bank loans and not in a condition to repay under their current financial position.
"Almost an equal number of private and Himachal Road Transport Corporation (HRTC) buses are plying in the state. We have been forced to take this step as the government remains mute towards our demands," said Singh.
The transport minister was unavailable to comment on this strike. PTI
Close Story