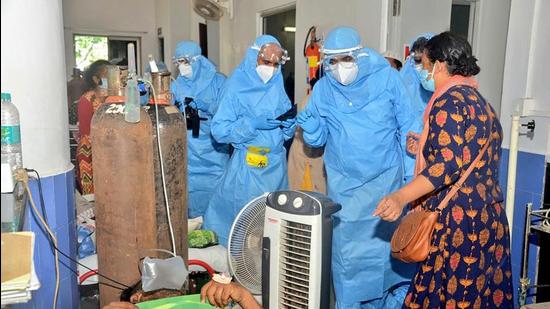 Oxygen levels drop again at Goa medical college; 13 patients dead
GMCH, which has now seen 75 deaths owing to dropping levels over the past few days, has reported fluctuations for six nights in a row now
By Gerard de Souza
UPDATED ON MAY 14, 2021 03:50 PM IST
Oxygen levels at the Goa Medical College and Hospital (GMCH) fluctuated yet again on the intervening night of Thursday and Friday, reportedly causing another 13 deaths. Resident doctors began reporting fluctuations around 9.30pm that went on till 2.30am in the wards assigned to Covid patients.
GMCH, which has now seen 75 deaths owing to dropping levels over the past few days, has reported fluctuations for six nights in a row now.
Patients' relatives began sending out help messages on social media, prompting officials from the health department, including health secretary Ravi Dhawan, to rush to the hospital to ensure the supply is restored, which happened around 2.30am.
"Health department officials have reached the site (and have) said they were trying the dura cylinders (new bigger cylinders that are being installed at GMC), which is why the drop happened," Shruti Chaturvedi, who has filed a petition in the high court over Covid management in the state, said.
Goa Forward Pary chief Vijai Sardesai claimed that 13 people succumbed during the 'dark' hours due to the low levels of oxygen on Thursday and 75 over four nights, a figure that was not independently confirmed by the health authorities. PTI cited a senior health official as confirming that 13 more patients, admitted in various Covid-19 wards in the GMCH, had died in the early hours.
Also Read | How to vaccinate 10 million people a day
"In all, 75 people have died during the dark hour, that is between 1am and 6am, in the last four consecutive nights. On the 10th (May) night, it was 26 people, on the 11th night, it was 21 people, on the 12th night it was 15 people and now, last night, it was 13 people. So, 75 people have died on four consecutive nights, because of oxygen shortage, basically mismanagement of oxygen supply at GMCH," he said.
The Goa government has claimed before the Bombay high court at Goa that is currently hearing a bunch of petitions concerning Covid management in the state, that the issues plaguing the GMCH are logistical rather than supply.
"There were logistical issues involved in manoeuvring the tractor which carries the trolleys of oxygen, and in connecting the cylinders to the manifold. During this process there was some interruption, which resulted in fall of pressure in the supply lines of oxygen to the patients. It is basically on account of these factors some casualties may have taken place," the state government told the court on Thursday.They assured the court that the issues would be sorted out.
The Goa government has also set up an independent committee headed by IIT-Goa director Dr BK Mishra to inquire into the supply issues at the state's premier research institute. The committee also consists of Dr VN Jindal, a former dean of the GMCH, and secretary, urban development, Tariq Thomas.
The high court had earlier made it clear that the Goa government should not seek to hide behind logistic excuses for proper supply not being maintained. (With PTI input)
Close