Pakistani terrorists carried out 26/11 Mumbai attacks, admits former PM Nawaz Sharif
Updated on May 12, 2018 11:27 PM IST
For the first time, Pakistan's ousted prime minister Nawaz Sharif has publicly acknowledged that militant organisations are active in the country and questioned the policy to allow the "non-state actors" to cross the border and "kill" people in Mumbai.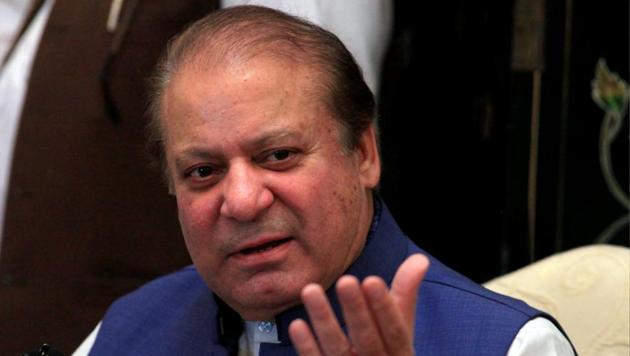 Hindustan Times, Islamabad |
Imtiaz Ahmad
Islamabad Pakistan's former prime minister Nawaz Sharif has questioned the policy of using Pakistan-based militant groups for cross-border attacks on India as he mounted a scathing attack on the powerful military establishment's perceived meddling in politics.
Sharif, ousted from his post by the Supreme Court last July for dishonesty in the Panama Papers case and subsequently barred from contesting elections for life, indicated during an interview with Dawn newspaper that Pakistan had been isolated by the world community for failing to counter terrorism.
On the campaign trail in Multan ahead of general elections expected in a few months, the three-time premier said: "Militant organisations are active. Call them non-state actors, should we allow them to cross the border and kill 150 people in Mumbai? Explain it to me.
"Why can't we complete the trial?" he added, an apparent reference to the trial of seven Lashkar-e-Taiba (LeT) members, including operations commander Zakiur Rehman Lakhvi, for their alleged role in the 2008 Mumbai attacks that killed 166 people.
"It's absolutely unacceptable. This is exactly what we are struggling for. President (Vladimir) Putin has said it. President Xi (Jinping) has said it…We could have already been at 7% growth (in GDP), but we are not," he added.
The Mumbai attacks trial, which began in early 2009, has stalled in an anti-terrorism court in Islamabad. The judge has been changed more than eight times and the chief prosecutor was recently removed.
Lakhvi is currently free on bail.
Sharif, 68, evaded a question on the reason for his ouster from public office and steered the conversation towards foreign policy and national security. He indicated that Pakistan's policy on terrorism had failed to satisfy the world community.
"We have isolated ourselves. Despite giving sacrifices, our narrative is not being accepted. Afghanistan's narrative is being accepted, but ours is not. We must look into it," he said.
In an apparent reference to the military's meddling in politics and its role in anti-corruption investigations against members of the Sharif family and leaders of the ruling Pakistan Muslim League (Nawaz), the 68-year-old Sharif said: "You can't run a country if you have two or three parallel governments. This has to stop. There can only be one government: the constitutional one."
Sharif, whose second term was ended by a coup led by former army chief Pervez Musharraf in 1999, has for long run into trouble with the military for his efforts to normalise relations with India.
In 2016, the PML-N government's relations with the military establishment soured after Dawn reported that the civilian leadership had told the army of Pakistan's growing international isolation for failing to act against terror groups such as the LeT, Jaish-e-Mohammed and Haqqani Network.
Observers believe the row resulted in the army's efforts to whittle down Sharif's powers and sideline the PML-N ahead of the polls in 2018.
Sharif denied that his third ouster from office represented a failed approach on his part and suggested he had no regrets or would do anything differently if he returned to public office.
"The Constitution has to be supreme. There is no other way. Look, we put a dictator on trial; it had never been done before," he said, referring to Musharraf.
Sharif rejected speculation that he would consider a deal if it was offered to him, including another stint in exile for avoiding a jail sentence in ongoing anti-corruption cases.
"Why would I do it now after 66 appearances (in an anti-corruption court)? We don't even get an exemption (from court hearings)," he said, referring to how he was unable to visit his ailing wife Kulsum Nawaz, who is being treated for cancer in London.
"It's not easy to stay away…Look, we have no other choice," he added. "These games have gone on too long. Something has to change."
Sharif also deflected questions on who would lead the PML-N in the general elections and whether his brother, Punjab chief minister Shehbaz Sharif, would be the prime ministerial candidate. He said: "There is a lot of appreciation for Shehbaz Sharif."
.
Personalise your news feed. Follow trending topics