Parliament Highlights: Lok Sabha adjourned briefly after protests by Trinamool Congress
Proceedings in Lok Sabha began on a stormy note, with Trinamool Congress leaders protesting against the detention of its party delegation to Assam over the issue of citizens' registry. Ruckus by opposition leaders over the Assam NRC draft list has resulted in repeated in parliamentary adjournments this week. On Thursday, home minister Rajnath Singh also told Parliament that the government intends to pass a Bill on the SC/ST Act during the monsoon session. Raising the issue during Zero Hour, Congress leader Mallikarjun Kharge said the Supreme Court judgement regarding the Act was "very dangerous" for SC/ST people.Here are the Highlights on monsoon session of Parliament: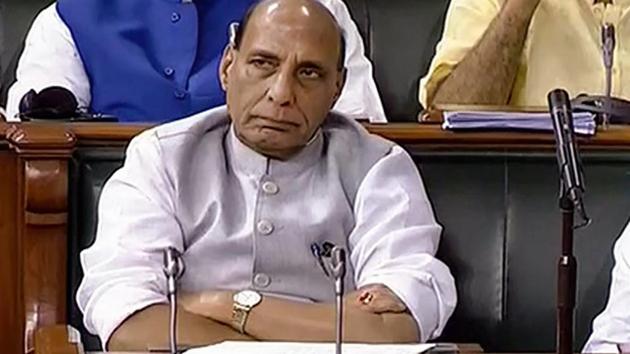 Updated on Aug 03, 2018 11:31 PM IST
7:35pm IST
Bill to restore original SC/ST Act tabled in Lok Sabha
A Bill to overturn a Supreme Court order which had laid down certain safeguards in SC/ST law to prevent atrocities against people of scheduled castes and tribes was introduced in the Lok Sabha today.
The bill rules out any provision for an anticipatory bail for a person accused of atrocities against SC/STs, notwithstanding any court order, while it also provides that no preliminary enquiry will be required for registering a criminal case and an arrest under this law would not be subject to any approval. Read more
5:16pm IST
TMC dissatisfied with Rajnath's statement
"The statement of Rajnath Singh is completely unacceptable. We expected that the Centre will intimate us on its own and take appropriate action. Nothing was done. We are completely dissatisfied with his statement. Over the weekend, we are going to chalk out our plan of action for Monday," a senior TMC leader said.
Rajnath Singh had accused the TMC leaders of creating an "unruly situation" at the Silchar airport on Thursday.
5:00pm IST
National Sports University Bill passed
Bill to establish a National Sports University in Manipur to promote sports education passed by Lok Sabha, as several members sought the inclusion of sports as part of a comprehensive education curriculum.
2:00pm IST
Nirav Modi extradition request sent to Indian high commission in UK: VK Singh
Minister of state for external affairs VK Singh informs Rajya Sabha that the request to extradite fugitive diamantaire Nirav Modi from the United Kingdom to India had been sent to the High Commission of India in London.
12:16pm IST
On Trai chief controversy, govt says Aadhaar safe
When asked about Trai chief's data being available online after he gave out his Aadhaar number, law minister Ravi Shankar Prasad says the core Aadhaar data bank is completely safe, as asserted by UIDAI.
12:15pm IST
Lok Sabha briefly adjourned
Lok Sabha briefly adjourned following protests by TMC members over detention of its leaders in Assam's Silchar.
11:55am IST
Congress says national security of utmost importance
Congress leader Ghulam Nabi Azad says he wants to make it clear national security is of utmost importance... But if NRC is a fair and objective process, then why are genuine citizens not listed in the registry.
11:55am IST
What is India's stand on refugees?
What is India's stand on refugees fleeing persecution, asks Swapan Dasgupta, political commentator and MP (nominated).
11:50am IST
TMC's questions government on NRC
The home minister must clarify if he approves the different statements on NRC, says Derek O' Brien.
11:30am IST
Decision on NRC update taken by Manmohan Singh, home minister says
Procedure of #NRC started in 1985 through the Assam accord when the late Rajiv Gandhi ji was the PM. The decision to update was taken by Dr.Manmohan Singh ji in 2005: HM Rajnath Singh in Rajya Sabha #NRCAssam pic.twitter.com/EJRg367Ey4

— ANI (@ANI) August 3, 2018
11:27am IST
No one will be discriminated against: Rajnath Singh
NRC is related to national security. We are committed to take it to its logical conclusion. But I want to assert that no one will be discriminated against in the process. It is a fair process: Rajnath Singh.
11:25am IST
Attempt to create fear condemnable: Rajnath
Some people with vested interests have used the issue to further their propaganda. It is an attempt to create communal disharmony. Attempts to create an atmosphere of fear are condemnable, Rajnath Singh says in Rajya Sabha.
11:20am IST
Rajnath Singh addresses Rajya Sabha over NRC
Home minister reiterates the NRC is a draft and not the final list. The process is completely "fair" and allegations are unfounded. All applicants can file claims on legal terms. "I am repeating again, there will be no coercive action against anyone," he says
11:05am IST
Protests by Trinmool Congress MPs
TMC leaders protest in Lok Sabha over the detention of its delegation at Silchar airport.
Close Story