Assam border protection and development minister Atul Bora said the joint visits to the disputed border areas will be completed by August end and the first set of reports submitted by September 15.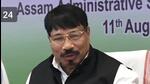 Updated on Aug 12, 2022 05:15 AM IST
This is the third time the CID faced trouble carrying out the investigation since the arrest of Jamtara legislator Irfan Ansari, Khijri MLA Rajesh Kachhap and Kolebira MLA Naman Bixal in West Bengal's Howrah district.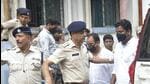 Updated on Aug 08, 2022 02:10 AM IST
A madrasa in Moirabari area run by Mustafa alias Mufti Mustafa, arrested for his links with Bangladesh-based terror outfit and Al Qaeda in Indian Subcontinent, was demolished earlier today.

Published on Aug 04, 2022 01:22 PM IST
A CID team visited Moti Bagh in Delhi to raid the house of Siddharth Majumder, who is allegedly connected to the case, while another visited the Guwahati airport to gather CCTV footage of the Jharkhand MLAs reaching the city on July 29 and leaving the airport next day, senior CID officials in Kolkata said.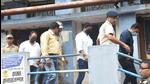 Updated on Aug 04, 2022 05:46 AM IST
The encounter occurred in the Manja area in Karbi Anglong district on Wednesday morning, after militants opened fire on Assam Police who had reached the location on a tip.

Published on Aug 03, 2022 06:13 PM IST