Assam floods: Massive landslides and waterlogging also resulted in huge damage to the state infrastructure - railway track, bridges, and roads.

By
HT News Desk
| Written by Manjiri Sachin Chitre | Edited by Swati Bhasin
Torrential rain and landslides in the past few days have eroded sections of roads and railway tracks in Assam's Dima Hasao district affecting road and rail connectivity to Barak Valley region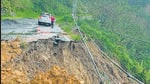 Till Saturday, a total of 24,681 people in 94 villages in six districts - Cachar, Dhemaji, Hojai, Karbi Anglong West, Nagaon and Kamrup (Metro) - have been affected due to floods, the Assam State Disaster Management Authority said.
The TMC national general secretary urged the people of northeastern states to form their own "unity in diversity" that can defeat the BJP. Abhishek Banerjee stated that his goal is to see the TMC growing as an active political participant across ten states.

ASTU on May 10 begin the application process for the CEE Assam 2022.