Shaheen Bagh protest organiser calls it off, can't get people to vacate
The sit-in protest at Shaheen Bagh which garnered nationwide public attention had started on December 15 with a group of 50 residents who took to the roads and tried to block traffic.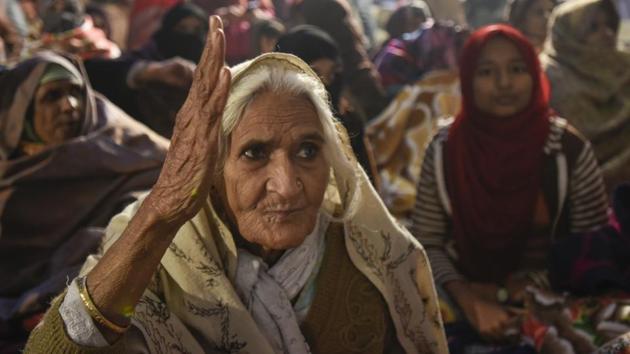 Updated on Jan 02, 2020 11:55 PM IST
A prominent organiser "called off" the anti-citizenship law protest in south-east Delhi's Shaheen Bagh on Thursday citing political interference, but other groups rejected his stance and hundreds of people showed up at the demonstration that has captured the attention of students, activists and civil society, but also thrown traffic out of gear.
Sharjeel Imam, a student at Jawaharlal Nehru University, said in the afternoon that he and others were withdrawing from the protests — where locals have blocked a key arterial road to Noida for 18 days — because of "politicisation" and "growing threat" of violence.
"They (political parties) are trying to tarnish the image of the movement," he said.
At least two other prominent organisers backed out afterwards, and said they would now work on a strategy for phase 2 of the movement, including elements of the four-month long protests in Hong Kong.
"As the elections are approaching, political parties are interested in hijacking the protest," Imam added in a post on Facebook.
After Imam's announcement, numbers dwindled at the site, where local residents have pitched tents on the carriageway from Sarita Vihar to Noida. But by evening, the crowds swelled again. Slogans against the Citizenship (Amendment) Act, or CAA, and of "Azaadi" (freedom) could be heard at the protest site.
"This is a mass movement and withdrawal by a few people will not end it. We will continue our agitation till CAA is repealed. If the police comes, we will stay here peacefully and not retaliate. They can put us in jails if needed," said Hena Ahmed, a local resident and volunteer.
Others said they did not want to lose the momentum of an event that has grabbed headlines.
Shortly after Imam's announcement on social media, he was accused of accepting bribes on behalf of political parties and trying to hijack the movement. But Imam, who was one of the first people to give the call for the Shaheen Bagh protest, rejected the allegations.
"Due to the threat of violence and in view of security and safety of the people as well as in the interest of larger anti-CAA, Anti-NRC (National Register of Citizens), Anti-NPR (National Population Register) protest we decided to put our apprehensions in front of the protestors," he wrote on social media.
The protests first began on December 15, when local residents in the Muslim-majority neighbourhood moved to block the highway to mark their opposition to the law that fast-tracks citizenship for non-Muslim refugees from Bangladesh, Afghanistan and Pakistan.
Since then, images of elderly women sitting or chanting slogans on mattresses under makeshift tarpaulin sheets in the biting cold have become the face of the anti-CAA protests in the Capital. Local residents have formed informal groups who coordinate security, speakers, songs, and cultural programmes that happen on makeshift stages nearby.
Volunteers and people from other parts of Delhi come to the neighbourhood every evening and many stay through the night, drinking cups of tea, eating biscuits or plates of biryani prepared in the many stalls and small shops in the bylanes of the neighbourhood. On New Year's Eve, thousands went to Shaheen Bagh to welcome 2020 with the protesters.
But police say the demonstrations have crippled Delhi's traffic by blocking Road Number 13A and have written to the protesters to vacate the spot. The road closure has also led to additional load on other Noida-Delhi connections, including Nizamuddin bridge and DND flyway, leading to traffic jams spilling over to Ashram Chowk and parts of Mathura Road and Ring Road.
All vehicles entering Delhi from Faridabad on Mathura Road have to stay on the latter and use the DND to enter Noida. Usually, such vehicles would take a turn towards Sarita Vihar and use road 13A to enter Noida.
The resulting traffic jams on Ring Road, from South Extension I and II markets towards DND flyway, force the Delhi Traffic Police to issue advisories on alternative routes every morning.
A section of local businesses have also complained of losses because most big shops in the area, especially those facing the highway, are shut. A local Bharatiya Janata Party (BJP) leader and the Shaheen Bagh Welfare Association have also written to the police to end the protest .
The BJP leader, Brahm Singh, said he would call for a similar protest if police do not clear the spot. "Many people have come to my office and complained about the difficulties they are facing in travelling because of the road blockade. We have no option but to hold similar protest if the do not clear the road," Singh said.
But at the protest, local residents said they were determined to continue.
Close Story
Personalise your news feed. Follow trending topics