Prez El-Sisi's visit: Defence, cyber security in focus to boost India-Egypt ties
Published on Jan 20, 2023 08:59 PM IST
President Abdel Fattah El-Sisi will be the first Egyptian and the fifth West Asian leader to be chief guest at India's Republic Day celebrations on January 26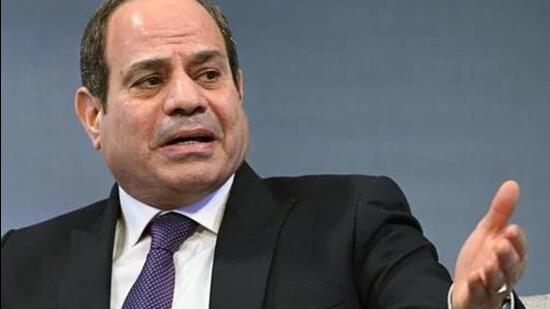 India and Egypt are expected to sign about half a dozen agreements in areas ranging from agriculture to digital during President Abdel Fattah El-Sisi's upcoming visit, with defence and security cooperation emerging as a key pillar in bilateral relations.
Sisi will be the first Egyptian and the fifth West Asian leader to be chief guest at India's Republic Day celebrations on January 26. The invitation to the 68-year-old general-turned-politician is part of India's efforts to reset ties with Egypt, seen as a key gateway to markets in Africa and Europe.
People familiar with the matter said the two sides are expected to sign agreements to enhance cooperation in areas such as cyber-security and IT during Sisi's meeting with Prime Minister Narendra Modi on January 25. On the same day, Sisi will be accorded a ceremonial reception at Rashtrapati Bhavan and he will interact with the business community to attract more Indian investments to Egypt.
Also Read: Prez Sisi's visit: Defence, green energy in focus in India-Egypt cooperation
A 180-member military contingent from Egypt will participate in the Republic Day parade, and Indian and Egyptian special forces are currently conducting their first joint drill named Exercise Cyclone in Rajasthan. The people said these are all signs of the burgeoning defence cooperation. The ongoing 14-day exercise is aimed at building inter-operability for counter-terrorism and other special operations.
The people characterised defence cooperation as robust and said Egypt has expressed interest in Indian platforms such as the Tejas light combat aircraft, Dhruv advanced light helicopter, Akash surface-to-air missile and an indigenous smart anti-airfield weapon. Hindustan Aeronautics Limited is in touch with the Egyptian side and the defence ministry is open to sharing technology with Egypt, they said.
The two sides have also enhanced training, joint exercises and ship visits, and a memorandum of understanding on cooperation was signed during defence minister Rajnath Singh's recent visit to Cairo. Egypt has also invited India to its Bright Star tri-services exercise in September.
The people listed several reasons for India's invitation to Sisi for the Republic Day celebrations, including Egypt's geo-strategic location, its role as a key player in the politics of the Arab world and Africa, and its ability to serve as a gateway to large markets in Europe and Africa thanks to several free trade agreements.
Almost 12% of global trade passes through the Suez Canal, and India-Egypt trade registered an all-time high of $7.2 billion during 2021-22, a growth of 75%. Indian exports during this period were worth $3.74 billion, an increase of 64%, and the two sides have set a target of taking two-way trade to $12 billion in five years. Three Indian companies have signed agreements for green hydrogen projects in Egypt worth $18 billion.
Egypt has also been positively disposed towards India, including in platforms such as the Organisation of Islamic Cooperation (OIC), where Pakistan has frequently sought to rake up the Kashmir issue. In such instances, Egypt never supported Pakistan's approach on Kashmir and other issues, the people said.
The Al-Azhar University in Cairo, a key seat of Sunni Islam, is perceived as a moderate voice that has issued fatwas denouncing terrorism. The two sides have also taken steps to enhance cooperation against terrorism and an upcoming meeting of the joint working group on counter-terrorism in February is expected to focus on information-sharing, dark web, and misuse of drones and social media, the people said.
With the Indian side having indicated that the resolution of the Palestine issue is expected to figure in Sisi's discussions while in New Delhi, the people said India's stance this issue has always been consistent. India is boosting training and capacity building for Palestinians, and is building a vocational training centre, a women's empowerment centre, a hospital and a diplomatic academy in Palestine. India has also increased its annual contribution to the UN Relief and Works Agency by four times to $5 million, they said.