Punjab MP to challenge Dipak Misra's appointment as next chief justice
Updated on Aug 08, 2017 02:08 PM IST
Lok Sabha member says allegations against Misra such as the one of corruption made by former Arunachal CM Kalikho Pul should be grounds for his disqualification as CJI pick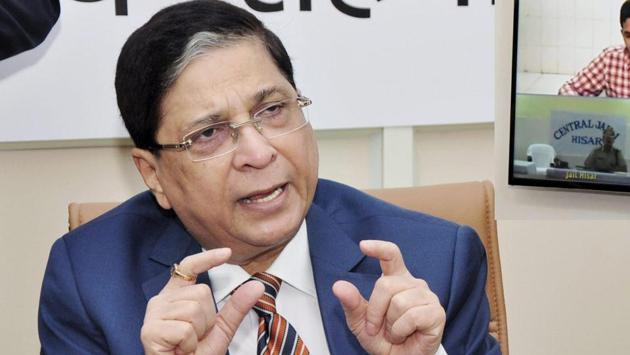 Punjab MP Harinder Singh Khalsa said on Tuesday that he will legally challenge the appointment of Supreme Court judge Dipak Kumar Misra as the next chief justice of India (CJI).
"I'm going to file a writ petition in Delhi high court on Tuesday challenging the appointment of next CJI," Khalsa told Hindustan Times over phone from his New Delhi residence on Tuesday.
Khalsa, the Lok Sabha representative from Fatehgarh Sahib who has been suspended from the Aam Aadmi Party, said that he feels Misra's elevation will harm India's judiciary since he has been accused of corruption.
Current CJI JS Khehar retires on August 27.
"The petition in Delhi High Court will seek a declaration that honourable justice Dipak Misra is disqualified to be appointed as next CJI in view of the allegations of corruption against him," Khalsa said.
"Is there dearth of senior judges with clear background? Why can't the norm of seniority be overlooked even when there are serious moral charges? The CJI is not just any other judge. He is the face of India's judiciary," Khalsa said.
The petition is being filed by advocates Mathew J Nedumpara and AC Phillip, who are part of the legal activism collective National Lawyers' Campaign for Judicial Reforms and Transparency.
"The petition says that Hon Justice Dipak Misra is under a cloud and hence the government shall not appoint him as the next Chief Justice of India merely (by) acting upon the recommendation of the outgoing CJI, that too without any enquiry or proceedings," Nedumpara said.
According to Khalsa, the allegations against justice Misra are in public domain.
"Both justice Khehar and justice Misra were named by former chief minister of Arunachal Pradesh Kalikho Pul in his suicide note for corrupt practices. It will be a black spot for India's judiciary if Misra now becomes the CJI by virtue of Khehar's recommendation," Khalsa told HT.
Personalise your news feed. Follow trending topics