Rahul Gandhi writes to PM Modi on Kashmiri Pandits: 'Calling them beggars…'
Feb 03, 2023 09:53 PM IST
Taking up the issue of the Kashmiri Pandits, Rahul Gandhi wrote a letter to PM Modi in which he condemned Jammu and Kashmir Lieutenant Governor Manoj Sinha's 'beggar' remark on Pandits.
Rahul Gandhi has written a letter to Prime Minister Narendra Modi urging him to not force Kashmiri Pandit government officials to return to the Valley amid the "targetted killings" by the terrorists -- without adequate security. "Hope you are well. Through this letter, I want to draw your attention to the pain of the Kashmiri Pandits. Targetted killings of Kashmiri Pandits and other people are continuing in the Valley. As part of my Bharat Jodo Yatra, I met a delegation of Kashmiri Pandits in Jammu who told me that government officials are forcing them to return to Kashmir," the letter read.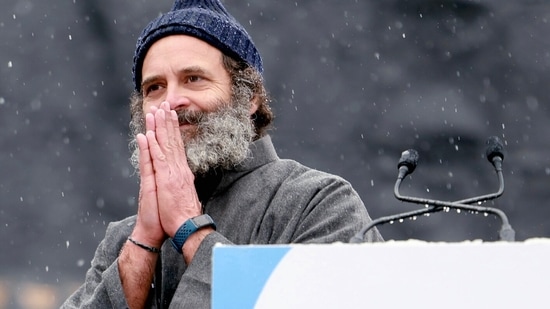 "In this situation, without the guarantee of security, forcing them to return to their work in Kashmir is a cruel move. The government can accommodate these Kashmiri Pandit govt staff in other departments," Rahul Gandhi wrote.
"It is very irresponsible of the LG to use words like 'beggar' for them. Probably, you are not aware of the insensitive approach of the local administration," the letter said.
When Rahul Gandhi met the delegation of the Kashmiri Pandits he said LG told them they should not beg. "Lieutenant Governor ji, Pandits are not begging, they are asking for their rights," Rahul Gandhi said demanding an apology from the LG. Kashmiri Pandit employees have been protesting seeking transfer out of the Valley claiming that the security situation is not favourable for their return to work but Manoj Sinha said there will be no salaries for protesting Kashmiri Pandit employees.
Topics