RBI report: Jaitley says demonetisation not only about black money, Oppn slams govt
Hindustan Times, New Delhi |
HT Correspondent and Agencies
Aug 31, 2017 10:27 AM IST
Union finance minister says those criticising demonetisation have not understood the intent behind the move to recall 500, 1000-rupee banknotes.
Union finance minister Arun Jaitley has defended last year's demonetisation exercise, saying the decision to recall 500 and 1000-rupee notes was not only to curb black money but also to confiscate illicit cash and bring them into formal channels and tax them.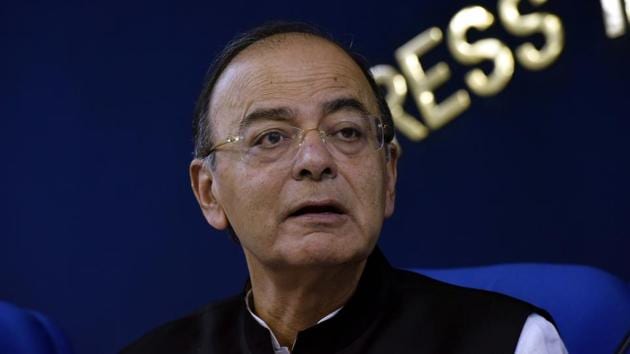 Jaitley's comments on Wednesday evening, shortly after the Reserve Bank of India (RBI) announced that 98.96% of culled notes had been returned, sparking opposition criticism on the efficacy of the move that had sucked out 86 per cent of the currency in circulation and led to a massive cash currency for several months.
"The real object of demonetisation was formalisation, attack on black money, less cash currency, bigger tax base, digitisation, a blow to terrorism," Jaitley said.
"And we do believe that in each of these areas, the effect of demonetisation has been extremely positive."
The finance ministry also said in a statement that "a significant portion of SBNs (specified bank notes) deposited could possibly be representing unexplained/black money".
The value of the banned notes which were deposited was Rs 15.28 lakh crore, the RBI said in its report.
By rendering 500 and 1,000 rupees illegal in one stroke and imposing restrictions on how the money could be returned to banks, the government had intended to make it difficult for hoarders of undeclared wealth, or black money, to exchange their undeclared cash for legal tender.
Jaitley said the tax department was scrutinising 18 lakh bank accounts with unusual deposits that do not match with their previous income profile.
The Opposition was quick to pounce on the data to attack the government, with former finance minister P Chidambaram wondering if demonetisation was "a scheme designed to convert black money into white".
"RBI 'gained' Rs 16,000 crore, but 'lost' Rs 21,000 crore in printing new notes! The economists deserve Nobel Prize," he tweeted.
"Rs 16,000 cr out of demonetised notes of Rs 15,44,000 cr did not come back to RBI. That is 1%. Shame on RBI which 'recommended' demonetisation," he said in another tweet.
Congress vice president Rahul Gandhi described demonetisation as "a colossal failure which cost innocent lives and ruined the economy".
"Will the PM own up?", he tweeted.
Jaitley hit back at Chidambaram's criticism, saying that "people who had not taken a single step during their tenure against black money have not understood the intent behind demonetisation".
He said the note ban compelled people to deposit money into bank accounts.
"So more tax payers, bigger tax base, both in direct and indirect tax, more digitisation, lesser cash in the system, integration of the formal with the informal economy.
"This was also one of the principal objects as far as demonetisation was concerned. And I think there is far greater evidence now that that has started moving in the right direction," he added.
While defending demonetisation in the Supreme Court in November, then attorney general Mukul Rohatgi said around Rs 4-5 trillion would probably not find its way back into the system.
By December, though, it was clear that tax evaders had managed to legalise their unaccounted money using mules and proxies to make deposits, made high-value purchases using backdated bills and colluded with bank officials to exchange old currency.
"The fact that the entire demonetised money has come back shows black money has been accounted for completely. In that sense, demonetisation has been a success," said R Gandhi, former deputy governor of RBI.
In his 15 August speech on the occasion of Independence Day, Prime Minister Narednra Modi said more than Rs 1.75 trillion deposited in banks after demonetisation was under the scanner.
Samajwadi Party leader Naresh Agarwal said his party would move a privilege motion against RBI governor Urjit Patel for "misleading a parliamentary panel by not revealing the number of notes returned".
Although opposition parties tried to make a big issue out of disruption caused by demonetisation, it has failed to dent Modi's appeal with voters. Since demonetisation, the BJP has scored key electoral wins, including a landslide victory in Uttar Pradesh.
"Exciting news! Hindustan Times is now on WhatsApp Channels
Subscribe today by clicking the link and stay updated with the latest news!"
Click here!
Get
Latest India News
along with
Latest News
and
Top Headlines
from India and around the world