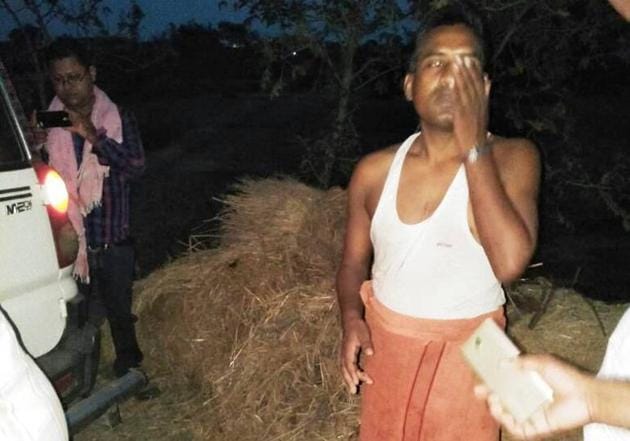 Rich, educated in rural Bihar throw spanner in ODF scheme
Well-to-do families in Rohtas district have SUVs and pucca houses, but no toilets, affecting the open defecation free scheme in Bihar.
Hindustan Times, Sasaram | By Prasun K Mishra
PUBLISHED ON MAY 04, 2017 01:16 PM IST
A review of the sanitation programme has thrown up an interesting fact that the open defecation free (ODF) campaign has slowed down in Bihar's Rohtas district due to resistance from the affluent and educated class.
Sample this. The village vigilance team of Fuli, under Sareyan panchayat of Kochas block in Rohtas district, 150 kms south-west of Patna, recently caught a primary school teacher defecating in the open.
Another village heavyweight, Rajendra Paswan, a former mukhiya of Rendiya panchayat in the same block, has a pucca dwelling, but no toilet at Bharthara village, says the report of the ODF nodal officer of Shivsagar block, Rajdev Ram.
And, that's not all. The Paswans have a marriage in their family in about a week's time and are expecting hundreds of guests. They will have no choice but to defecate in the open, the officer points out in his report.
Arshad Ali, who is the Shivsagar circle officer-cum-ODF nodal officer of Karoop panchayat, says in his report that the comparatively rich, residing in pucca dwellings in ward number 10 of Pipari village, take pride in not having toilets and defecating in the open.
Other well-to-do families at Bhadrasheela village, are no exception. They have SUVs and pucca houses, but no toilets, says another officer in his report to the district magistrate.
READ: 'Virat Kohlis' & 'Chris Gayles' to spread Swachh Bharat message in Rural Bihar
On the contrary, he says that the poor are more obedient in constructing toilets and driving the ODF campaign.
The travesty is that all such people, having social stature, were supposed to have driven the ODF campaign in rural Rohtas. Instead, they have turned out to be poor defaulters.
"The challenge is to change the mindset of the people. It is easier to explain to the poor and make them understand. The actual percentage of poor constructing toilets at their home is more than the rich. It is really surprising that people have multi-storied houses and SUVs, with no dearth of resources whatsoever, take pride to defecate in the open, as a matter of right," Rohtas district magistrate Animesh Kumar Parashar told HT.
"We have deputed senior deputy collector-rank officers as block nodal officers and block-level senior officials as panchayat nodal officers to achieve the target of making the district ODF," he added.
The resistance to change by the affluent class has slowed down the ODF campaign in Rohtas under the Swachch Bharat Abhiyan, launched by the Prime Minister on Gandhi Jayanti, October 2, 2014. It is India's biggest cleanliness drive, aimed at making a 'Clean India' by October 2, 2019 - the 150th birth anniversary of Mahatma Gandhi.
Against a target of 2,50,000 toilets, the district has so far been able to construct 89,000, which is 35% of the target. On the contrary, in the hilly tracts of the district, inhabited mostly by the poor and tribals, the progress is 56%, says Dharmvir Singh, the district public relations officer and the ODF nodal officer of Rohtas block.
Only four - Sanjhauli, Tilauthoo, Suryapura and Nokha - out of 19 blocks in the district have so far been declared ODF, as Rohtas races against time to achieve the unique distinction of Bihar's first ODF district by May 31.
Rohtas' Sanjhauli block was the second in Bihar to be declared ODF on August 30, 2016 in a record 55 days. Piprasi in West Champaran was the first such block to achieve the milestone in 90 days last June. Altogether 53 out of total 245 panchayats and 945 wards have been declared ODF.
On a pan India basis, more than 3 crore toilets have so far been constructed and the sanitation coverage has gone up from 42% to 60%. So far, 1,74, 557 villages, 118 districts and three states have been declared ODF.
Close