Rising costs, lack of subsidy force Bharatpur's betel farmers to migrate
Published on May 20, 2019 05:23 PM IST
In Rajasthan's Bharatpur district, betel is grown in around four hectares in Umred, Bagrain and Khan Kheda village. The annual production in the district is around 350 million leaves.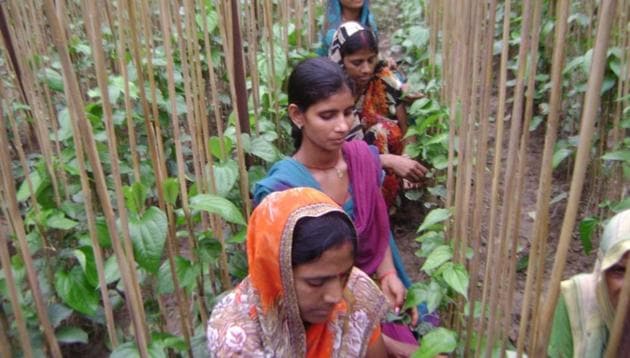 Hindustan Times, Bharatpur |
Suresh Foujdar
Betel farming in Bharatpur's Weir sub-division has left a bad taste in the mouth of farmers who say they are being forced to give it up for lack of subsidy and crop insurance to cover their losses. Many have migrated to Jaipur for daily wage jobs.
In Bharatpur, betel is grown in around four hectares in Umred, Bagrain and Khan Kheda village for its leaves which are chewed in India and some other Asian countries. The annual production in the district is around 350 million leaves.
In Umred, 15 families grow the betel plant for their livelihood. But high cost of production and risk to yield due to hail or direct sunlight are forcing many of them to give it up.
"We depend on betel leaves for our living. The family sells 45 leaves for Rs 100. We want to increase the acreage but cannot do it because of poor rainfall here and lack of water for irrigation," says Girish Kumar.
Uday Bhan says the farmers expect the government to provide loan for setting up greenhouse to save the betel crop from hail storm and sunlight.
Farmers in Umred say hundreds of families of the Tamoli caste in the village grew betel in the past. "Our ancestors told us that Mughal Emperor Akbar was particularly fond of betel leaves from our village and had even visited Umred once," says Radhey Lal. "But the government doesn't support us."
He says there is an urgent need for water for irrigation and crop insurance to cover losses due to inclement weather.
"It's not lucrative anymore," says Jamuna Prasad. "Input cost is rising and we lack technical support to fight diseases, forcing us to migrate to big cities for daily wage works to raise our families," he adds.
According to the district agriculture department, betel plants are grown in March and leaves are plucked till October and November. Leaves grow on the vines for three or four years. Betel farms need to be watered nearly five times a day. The leaves are covered with grass and clothes to protect them from sunlight.
Agriculture department's joint director Deshraj Singh said for a crop to be covered under the crop insurance scheme, it has to be grown on at least 500 hectares in each tehsil. The total acreage of betel in Bharatpur is less than 5 hectare, making it ineligible for crop insurance, he added.
Horticulture department's assistant director Janak Raj Meena said a project to include betel in horticulture was sent to finance department three years ago. "If the project comes through, farmers will be able to get subsidy and benefits of other government schemes for betel farming," he said.
An officer of the agriculture department said on conditions of anonymity that the previous BJP government moved a proposal to provide subsidy Rs 1 crore for betel farmers in the state. "The proposal is lying in the finance department and the current government doesn't seem very interested in pushing it through," he added.
Personalise your news feed. Follow trending topics