Roti, dal, cabbage for Lalu Prasad's jail dinner; family worried about his health
Dec 25, 2017 09:03 AM IST
RJD leader Lalu Prasad's son had asked jail authorities to serve him chapattis instead of rice as he suffers from heart ailments.
Rashtriya Janata Dal (RJD) supremo Lalu Prasad was served chapatti, dal (cereal) and cabbage for dinner on his first night at the Birsa Munda Jail in Ranchi, where he is lodged after being convicted in the multi-crore-rupee fodder scam on Saturday.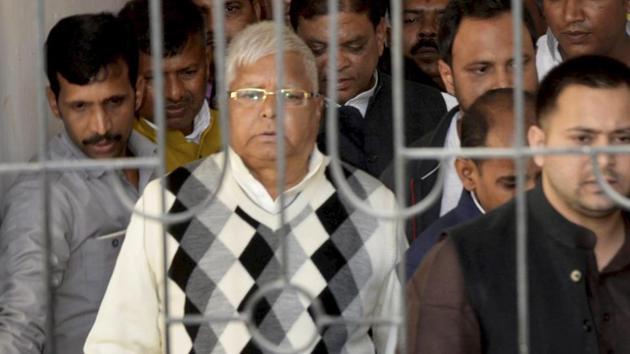 The 69-year-old leader's elder son, Tejashwi Yadav, had asked jail authorities to serve him chapattis instead of rice as he suffers from heart ailments, prison sources said.
Prasad had undergone a heart surgery in 2014 and is under strict diet restriction since. The last time he was sent to jail in Ranchi in 2013, he had mutton curry and rice.
In Patna, wife Rabri Devi is worried about his health and medication.
"Laluji takes medicines throughout the day. He needs somebody by his side to assist him. I don't know who is taking care of him in jail. Many leaders have travelled with him to Ranchi. I hope they are being allowed to meet him," she said.
According to the jail manual, visitors are not allowed to meet prisoners on Sundays.
"Many RJD leaders went to meet Laluji on Sunday but the jail authorities did not allow them to enter the premises," Jharkhand unit RJD president Annapurna Devi said.
Several party legislators, including son Tejashwi, are in Ranchi. Tejashwi went with his father to the jail on Saturday evening, sources said.
"No visitors were allowed to meet him on Sunday. Visitors can meet him later, but only during visiting hours," jail superintendent Ashok Choudhary said.
Prasad shares the jail's upper division cell with seven more politicians — former Congress legislator Savna Lakra, former state minister Raja Peter, former legislator KK Bhagat, Jharia legislator Sanjeev Singh, legislator Enos Ekka, former Bihar MP Jagdish Sharma and former legislator RK Rana.
Prasad was held guilty by a CBI court in a case of fraudulent withdrawal of Rs 89 lakh from the Deoghar treasury between 1991 and 1994. Rana and Sharma were convicted too along with Prasad.
The RJD chief was quiet in jail and didn't respond to questions asked to him about his dinner preferences, jail sources said.
Lalu is also eligible to get newspapers, magazines, books and food from outside the jail, sources said.
According to jail rules, a convict serving imprisonment can be allowed to meet acquaintances once in a fortnight. A prisoner on trial can be allowed to meet visitors once a week. The visiting hours are between 7.30am and 11.45am.
Major rule violations were reported when Prasad was lodged in the jail four years ago. Many party leaders and former parliamentarians met him after the assigned visiting hours.
(With inputs from Anirban Guha Roy in Patna)