₹

2000 crore loss this year due to lower production, say Sivakasi firework manufacturers

Updated on Oct 23, 2018 06:52 PM IST
Tamil Nadu Fireworks and Amorces Manufacturers Association (TANFAMA) president T Asaithambi said that firecracker production has dipped by about 30-40% this year as compared to the previous years, leading to the loss.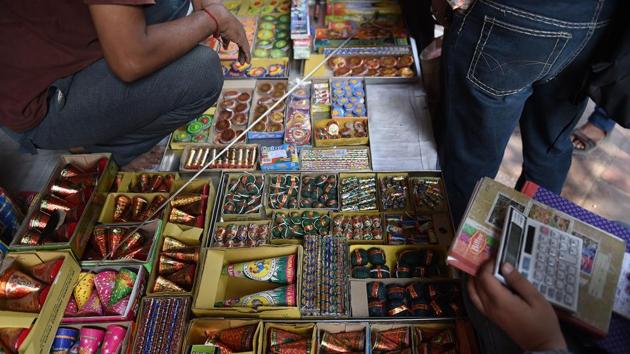 Chennai, Hindustan Times |
M Manikandan
The firework industry in manufacturing hub Sivakasi were Tuesday relieved that the Supreme Court has not imposed a blanket ban on bursting of firecrackers but said the uncertainty led to a dip in orders this year, forcing lower production volumes and entailing a loss of ₹2000 crore for the sector.
The manufacturers are actively considering to file a review petition in the apex court, as the stipulations on the use of chemicals are a cause of worry for them.
Tamil Nadu Fireworks and Amorces Manufacturers Association (TANFAMA) president T Asaithambi said that firecracker production has dipped by about 30-40% this year as compared to the previous years, leading to the loss.
"Earlier, every year, we used to do business of ₹6000 crore. While eight percent of our total production is for Tamil Nadu's consumption, the remaining is for other parts of the country. Due to the ban imposed by the SC last year in Delhi NCR and the petition seeking a blanket ban, our dealers were reluctant to take orders... the cumulative loss of business was around ₹2000 crore," he told Hindustan Times.
"Earlier, a week after every Diwali, dealers will make advance payments for their next purchase. The total advance amount would be about ₹1500 crore which had helped us to start production for the next Diwali. However, this year, no dealer has come forward to make the advance payment. Therefore, fireworks units have reduced their production by 30-40% which is worth around Rs.2000 crore. As such, this year the volume of production stood at Rs.4,000 crore," he explained.
Also the restricted timings to burst crackers, as announced by the Supreme Court, would affect sales, he pointed out.
TANFAMA general secretary Mariyappan also said that filing a review petition is necessary since the verdict has barred the use of chemicals like barium nitrate and aluminium, the main ingredients in the manufacture of crackers till now.
"Around 40% of popular crackers and firework varieties (worth around ₹1900 crore this year) are manufactured with aluminium and barium nitrate. Based on the report of the Council for Scientific and Research Institute, the SC has banned these two... manufacturers have been asked us to use magnesium and water. Our studies have shown that use of magnesium is harmful. Further, the SC has banned garland crackers, which accounts for 5% of the total production.," Mariyappan told Hindustan Times.
Maintaining that barium nitrate and aluminium are safe chemicals, he said they provide the whitish silver colour in ground spinners, pencil crackers, and other fireworks. On high decibel crackers, he noted that they have not exceeded the norms in force.
"When the issue of decibel levels came to the fore in 1997, the committee formed by the Centre then had stipulated that it should not exceed 125 decibels. We are following that until now," he said.
Mariyappan also bemoaned the lack of consistency in the policies regulating manufacture and sale of fireworks. "Whether it is the court or the government, changes are effected just days before Diwali, making life difficult for us," he said adding that over five lakh people are dependent upon the fireworks industry in the region.
Business has come down in this fireworks hub with 842 fireworks employing over five lakh labourers. Penetration of cheap Chinese crackers has further added to their woes.
Despite the gloom that has set in following the stringent rules imposed by the Supreme Court, the manufacturers haven't disappointed cracker enthusiasts waiting for the festival as this this time too, they have come up with new varieties of fireworks.
"As Diwali is festival of lights, we are always keen to offer new varieties with a few innovations. This year, we have produced five new cracker varieties in ground chakra and sky crackers. These new varieties will emit purple, orange and pink colours. Ground chakras used to emit only silver colour flames. The new ground chakras emit more colours, offering a visual treat. The price of these new products is in the range of ₹30 to ₹1500," Adhi Roopan of Aiyyan Fireworks told HT.
Meanwhile, fireworks dealers and traders are also having their own tale of woes.
"About 90% of those engaged in crackers business are holding only temporary licenses. Though we submit applications for renewal with the authorities in January itself, they are clearing it only a week before Diwali. Because of this, we have to cough up more on transportation of crackers. For, in the days preceding the festival, the demand goes up from the usual 5% to 10%," N Elangovan, general secretary, Federation of Tamil Nadu Fireworks Traders told HT.
He also expressed grave concern over the dumping of Chinese crackers. "Even as the government claims to have stopped the entry of Chinese fireworks, the reality in the market is different. Since Chinese crackers are made for children, they are penetrating through the toy shops," Elangovan said.
Hindustan Times tried to contact Tamil Nadu industries minister MC Sampath but he could not be reached. However, a top official in the department said the government was taking measures to rectify these issues.
"We have advised the district administrations to give licenses without any delay. Further, we have controlled the entry of Chinese crackers to a large extent. If there are any complaints, we will take prompt action," the official said.
Personalise your news feed. Follow trending topics