Satellite launch a proof of ISRO's capabilities, says founder of space startups
Feb 22, 2017 02:35 PM IST
Even when she was in school, Susmita Mohanty was reaching for the stars. Born in Cuttack in Orissa and raised in Ahmedabad, the daughter of an Indian Space Research Organisation (ISRO) scientist sent her first idea to NASA as a schoolgirl, not knowing then that she would one day work at the American space agency.
Even when she was in school, Susmita Mohanty was reaching for the stars. Born in Cuttack in Orissa and raised in Ahmedabad, the daughter of an Indian Space Research Organisation (ISRO) scientist sent her first idea to NASA as a schoolgirl, not knowing then that she would one day work at the American space agency.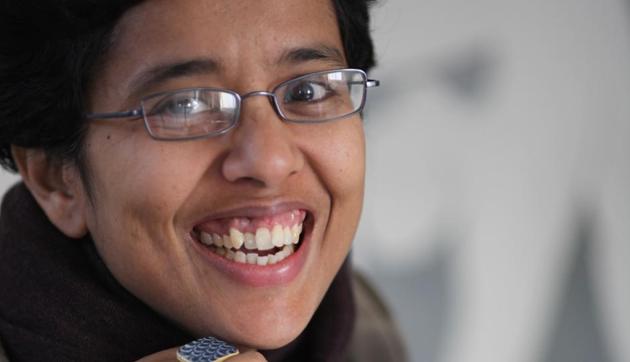 An electrical engineer by training, 45-year-old Mohanty has double masters -- one from the National Institute of Design in Ahmedabad and another from the International Space University in France.
Following her stint at NASA, Mohanty joined Boeing to work on the International Space Station program. In 2005, she was awarded the International Achievement Award in Washington DC for boosting international cooperation through her ventures.
After spending a decade abroad, Mohanty returned to India in 2008 to launch India's first private space startup, Earth2Orbit that has offices in Bengaluru and San Francisco. The space entrepreneur has founded three start-ups and mentors a handful others in India.
Mohanty, who is gearing up for a trip to Antarctica, spoke to Malavika Vyawahare about ISRO's historic launch and the trials and tribulations of being a space startup in India.
What are your thoughts on ISRO's latest feat?
It's further consolidation of ISRO's technological prowess and a message to the world that we can take on constellation launches and we'll treat you to more such spectacular missions in the future to Low Earth Orbit and beyond.
Ninety-six of the 104 satellites that ISRO launched on the last PSLV (Polar Satellite Launch Vehicle) mission were American. Very few people know that ISRO/Antrix signed their first ever historic launch agreement with an American company in 2014 after nearly 15 years of launching foreign payloads. This was made possible due to the sustained efforts over five years by two start-ups: Earth2Orbit and Skybox Imaging. Start-ups dare to go where traditional companies do not. That was the turning point for the PSLV. Skybox was then acquired by Google and renamed Terra Bella.
The regulatory and export control hurdles haven't gone away, but it has become easier for American companies to launch smaller payloads on the PSLV. There are several American companies that are planning to launch satellite constellations. They need frequent reliable launches and PSLV is one of the best options they have.
You were involved in the launch of the Terra Bella last year with ISRO. What exactly was Earth2Orbit's role in that?
Yes, Google Terra Bella was our launch client. We also facilitated the launch of a Japanese satellite in 2012 on the PSLV. Earth2Orbit provides launch advisory to international clients. We provide legal, contractual, technical and launch campaign management services.
Earth2Orbit has also launched a new venture called Earth2Orbit Analytix.
Can you describe your journey leading to the founding of Earth2Orbit?
I worked for NASA and Boeing in the late 1990s.
I decided to become an entrepreneur in 2000 because I wanted to change the status quo. Besides, I get bored easily, so I am constantly looking for new exciting challenges, the more difficult the challenge, the more fun. Each of my companies was created with a distinct vision to change the way we think, we design, we collaborate and we do business in the world of space.
I spent the first 15 years designing future systems for humans to live and work in Earth orbit, on Moon and Mars (eg space habitats, rovers, spacesuits, simulators); the last 7, I facilitated American and Japanese satellite launches on the PSLV rocket, and the next 10 will be spent looking back at the Earth and creating actionable social, environmental and business intelligence using satellite imagery and machine learning algorithms (big data and analytics).
Tell us about Earth2Orbit Analytix.
Earth2Orbit Analytix is creating GeoIntelligence data products that leverage satellite imagery to provide location specific commercial, economic, environmental and social intelligence in a cost-effective manner.
We leverage composite data sets, sophisticated algorithms and advances in "Big Data, Deep Learning, and Cloud Compute" to respond to pressing social, business and environmental questions and concerns. We combine Earth Observation (EO) data with large volumes of other forms of data to deliver "actionable intelligence" to our clients. Our GeoIntelligence products target clients in the areas such as agriculture, environment, insurance, infrastructure and cities.
We were selected by Airbus for their Accelerator Program this year. There were 140 applicants pan-Asia for the Airbus Accelerator Program in Bangalore, 7 were selected as part of the Season 2 and we made the cut.
What was your vision for the companies that you have launched?
My first company called MoonFront (2001-07) was based in San Francisco. It was a boutique consulting firm. It was my first company and therefore more of a learning experience.
I co-founded my second company Liquifer Systems Group (LSG) in Vienna four years later in 2004. LSG designs future systems for human and robotic exploration of outer space.
LSG is the first successful space company where architects, designers, engineers and scientists work together to design space habitation, transportation, and exploration systems. They use a multi-disciplinary approach as opposed to the outdated engineering-centric approach used in most space agencies.
My third venture Earth2Orbit (2008-onwards) is based in Bangalore and San Francisco. The vision behind Earth2Orbit (E2O) is to lead India's foray into private enterprise.
Is it easy being a space entrepreneur in India? What are the challenges?
Quite the contrary. It is very tough being a space entrepreneur in India. Unlike the American and European space agencies, our country is doing nothing to promote start-ups. There are no funds, no subsidies, no support from the space agency or otherwise.
You have said that you want India's space program to be more than a "government-run program". What would that require?
We have a fantastic government space program, but we need to do more. The global civilian space market that includes satellite manufacturing, launches, ground equipment and satellite services exceeds $300 billion a year.
ISRO's commercial revenue is less than even 1% of the global market. Given that India's government space program easily ranks among the top 6 space faring nations in terms of technological capabilities and budget, we need to get at least 10% - 15% of the 300+ billion dollar market, if not more.
• We need a progressive space policy that allows the creation and nurturing of companies that not only serve ISRO's needs but are also capable of competing internationally.
• We need a thriving funding ecosystem as is found in the US and Europe.
• We need a long-term vision to enable Indian companies to generate millions of inspiring jobs in the space sector for our burgeoning youth population.
Unlike IT where we mostly do back-office processing and barely engage in any innovation or disruption, in the space sector we can offer innovative products and services in the international market.
How do you see this space changing in the next few years?
There are a handful of space startups in Bangalore, which in my view, is one of the best places to start a space company. To name some, there is Team Indus, Aniara Space, Dhruva Space, and Astrome. We are a small bunch, we stay connected and we support each other.
We are pushing for space policy change, and more importantly a mindset change, a change in attitude towards entrepreneurship. We should not be perceived as a threat to the government space program, but rather as a vital complement that can be agile, innovative, and disruptive. We are a force to reckon with and we are here to stay.
Even if there is little or no support from the government (yet) for space start-ups, we can leverage on-campus incubation ecosystems at IITs and IIMs. We also can tap into international venture funds such as Airbus Ventures and Starburst Ventures that are focused on investing in space start-ups.