Saving a bird sanctuary inside the concrete jungle of Kolkata
Jan 08, 2018 06:46 PM IST
Amid government's beautification drive, local organisations are trying to retain the city's lake area as a paradise for birds
Bright lights, paved walking trails and a manicured garden are bringing residents back in droves to south Kolkata's signature address — the British-built Rabindra Sarobar, or the Dhakuria Lakes.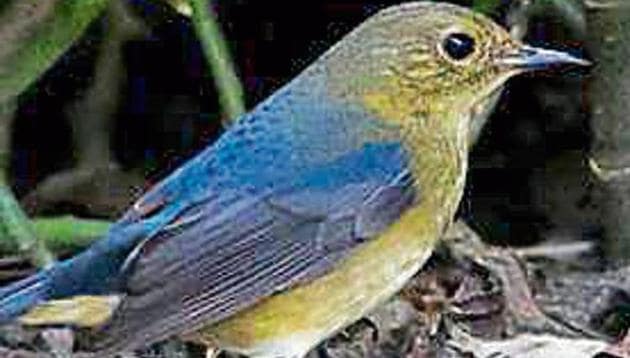 But the administration's efforts to beautify the long-neglected lakes, islets and shores have taken away almost hundred years of solitude for the birds that flock and multiply in the area.
The 192 acres of artificial lakes and greenery comprising around 7,000 trees is a birders' paradise. At least 112 species of resident and migratory birds were sighted since 2015 in Rabindra Sarobar — set amidst south Kolkata's most densely populated zone.
Of the 73 species sighted in 2017, the ones spotted in the lakes for the first time are the cotton pygmy goose found in India, Pakistan and Bangladesh, large-billed leaf warbler that breeds in central China and the Himalayas, the Tickell's leaf warbler found in many parts of Asia, and the black-headed cuckooshrike found in India and Southeast Asia. Birders have spotted and photographed the rare Asian stubtail or the slaty-blue flycatcher too.
The area was developed by the British in the 1920s as one of the twin lungs of the 300-year-old city. From Independence till the late 1970s nothing was done to maintain the trees and water bodies, and plants and wildlife found a world free from human intervention. But Lakes also turned out to be refuge for criminals after sundown.
The government built a few concrete structures and roads in the 1980s and 1990s. But things changed radically after the Trinamool Congress came to power in 2011.
As part of beautification plans for Kolkata, roads were widened and bright lights put up. Shores of the lakes were covered with concrete and shrubs, bushes and dead trees removed. The lakes now get a record footfall of walkers and casual visitors, but experts warned that wildlife will be gone for good.
"Rabindra Sarobar is a now a manicured park. Birds that nest in the holes of dead trees have no place to go. A lot of migratory birds love shrubs, but there isn't any. They land here to rest because Rabindra Sarobar appears on their migration route between Russia and Sri Lanka," said an architect and member of a birder's group, who didn't want to be named.
"The lights may be good for our recreation, but not for animals and birds. With bushes being cleaned regularly, birds that nest on the ground have left and, so have the snakes and mongooses living here for decades. Before these were covered with concrete, the natural muddy banks provided food for many birds," said Dr Kaushik Deuti, a scientist with the Zoological Survey of India (ZSI).
These Rabindra Sarobar birds have been identified and catalogued by ardent birders, who are part of a nameless group of men and women from diverse backgrounds.
"Our journey began in 2012 when the Kolkata Improvement Trust conducted a photography workshop inside the Lakes. For some unknown reason photography was prohibited inside the Lakes when the Left Front was in power," said Sudip Ghosh, who organised the motley group in 2015 and started cataloguing every bird sighting.
"The passion took on after Dr Sumit Sengupta, a pulmonologist, clicked the eye-browed thrush, an elusive bird. In 2013, Sandip Das, a birder from Dankuni in Hooghly district, clicked the Asian stubtail. Till then, nobody had spotted or photographed this bird in India," Ghosh said.
The Asian stubtail was never seen again. Apart from permanent residents, the blue-throated blue flycatcher and brown-breasted flycatcher have been spotted during September-October and February-March alongside the firethroat, bluethroat, pin-tailed snipe, long-tailed nightjar and brahminy starling. Several painted storks were also spotted on the islands.
"I can say without doubt that the number of birds will increase in Rabindra Sarobar if trees and plants are allowed to grow naturally and the water remains clean. Certain parameters should be maintained to keep an ecosystem alive," said Dr Kailash Chandra, the ZSI director.
According to a senior official of the Kolkata Metropolitan Development Authority, which builds and maintains roads in the Lakes, the area is not a wildlife sanctuary but an urban development project. "The government is responsible for its maintenance and convenience of hundreds of walkers and residents … We have to tread cautiously and maintain a balance," he said.
All hope hasn't been lost yet as well-wishers such as Nature Mates, an NGO, has taken up the cause.
"Humans need space to walk, but that cannot come at the cost of greenery and wildlife. We are planning to grow plants that attract butterflies and insects and set up a centre to create awareness on wildlife … Inclusive development is the sole option," said Arjan Basu Roy, secretary of Nature Mates.
Guarded by high walls and located inside Rabindra Sarobar, the Safari Park managed by the Lions Club has offered relief to the birders. "After their request we stopped cleaning a small portion of the park to let shrubs grow. We are planting a thousand coconut trees as well," said Pravin K Chharia, secretary of the Safari Park trust.
"Exciting news! Hindustan Times is now on WhatsApp Channels
Subscribe today by clicking the link and stay updated with the latest news!"
Click here!
Get
Latest India News
along with
Latest News
and
Top Headlines
from India and around the world