SC dismisses plea for judicial probe into Ram Navami clashes
Apr 27, 2022 05:54 AM IST
A bench of justices L Nageswara Rao and BR Gavai called the petition frivolous and said do not ask for such directions.
The Supreme Court on Tuesday dismissed a petition seeking setting up of a judicial commission to inquire into incidents of communal violence during Ram Navami and Hanuman Jayanti across the country and "bulldozer justice" delivered by few state governments in response to it.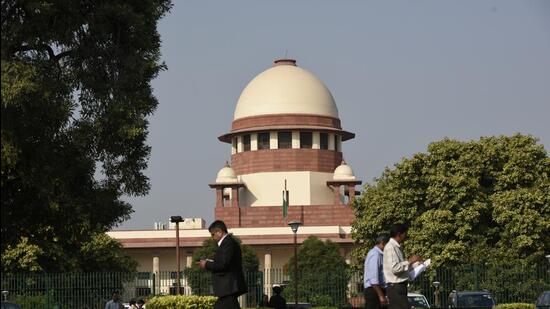 "What sort of relief is being prayed for in this petition? You want a judicial commission inquiry against these incidents and that too headed by a former Chief Justice of India (CJI)... Do not ask us to pass such directions. Do you think any former CJI would be free for this?" a bench of justices L Nageswara Rao and BR Gavai said as it dismissed the petition filed by Vishal Tiwari.
Violence was reported in nine states on Ram Navami on April 9 and 10. A few states also reported incidents of communal clashes and rioting on Hanuman Jayanti on April 16.
Following the violence, authorities in a few states resorted to demolishing structures owned by men accused of stoking violence, triggering allegations that the administration was bypassing legal due process.
Tiwari, in his plea, sought directions to hold an inquiry into the clashes that took place in Rajasthan, Delhi, Madhya Pradesh and Gujarat.
The respective state governments had registered criminal cases in connection with the violence but nothing came out of them, he said. People have faith in the judiciary and the truth behind these events should be looked into, he added.
The petitioner also sought directions to set up a similar committee to inquire into the arbitrary action of 'bulldozer justice' and said it was carried out without any justifiable reason against individuals who are not proven offenders.
"Such actions are absolutely discriminatory and do not fit into the notion of democracy and rule of law," the plea submitted.
"The rights of such individuals are violated under the right to life and equality under Article 14 and 21 of the Constitution," it added.
The top court also rejected Tiwari's request to club his plea with a case pertaining to the demolition which was carried out in Delhi's Jahangirpuri following communal violence on April 16. The top court has ordered status quo in the second matter.