Sitting MP, four other TDP leaders switch over to YSRC in Andhra Pradesh
Updated on Mar 17, 2019 09:12 PM IST
The five leaders joined YSRC ahead of Jaganmohan Reddy announcing list of candidates for Assembly and Lok Sabha seats on Sunday.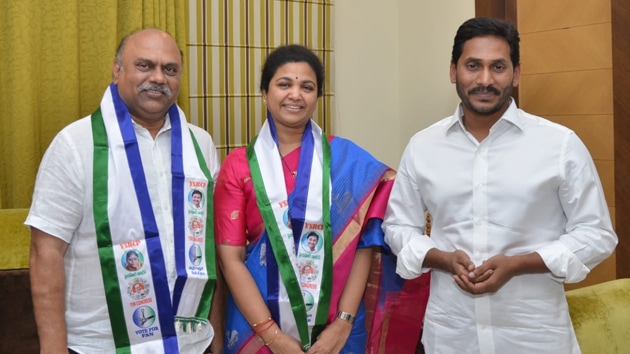 Hindustan Times, Vijaywada |
Gali Nagaraja
In the season of defection, Kurnool Sitting Lok Sabha member Butta Renuka, who was elected on a YSR Congress ticket in 2014 and crossed over to TDP in October 2017, returned to Jaganmohan Reddy's party on Saturday.
Renuka is one of five leaders from the TDP camp who joined YSRC at the Reddy's Lotus Pond residence in Hyderabad on Saturday. A few days ago, Varupula Subba Rao, who was elected on YSRC's ticket from Prattipadu in East Godavari district and later defected to TDP had also returned to his original party.
Renuka who is from the backward class weaver community, has been overlooked by TDP supremo N Chandrababu Naidu who has promised a ticket to Congress defector Kotla Jaya Suryaprakash Reddy for the Kurnool Lok Sabha seat.
Talking to media persons after formally rejoining the YSRC, she said she was taken into the TDP with a promise that she would be fielded again from her home constituency in 2019 but Naidu failed to keep his word.
Renuka is the fourth sitting MP to switch to Jagan Reddy's party after Avanti Srinivas of Anakapalli, Thota Trimurthulu from Kakinada and P. Ravindra Babu of Amalapuram (SC reserved).
Also read: Lok Sabha elections 2019: Thota Narasimham quits TDP to join YSRC
Pointing to denial of tickets for backward class leaders in the Kurnool Parliament seat and in Mangalagiri assembly segment, she alleged that the TDP's leadership has brazenly displayed its "upper-caste" bias in the ticket distribution. While she was denied ticket to make way for Suryaparakash Reddy in Kurnool, a candidate from her community who lost the Mangalagiri assembly seat in 2014 was replaced by CM Naidu's son Nara Lokesh.
"These two cases are enough to suggest the raw deal meted out to backward classes in the TDP," she alleged. Renuka said she was joining the YSRC unconditionally.
Besides Renuka, two more TDP former ministers Adala Prabhakar Reddy and Balli Durga Prasad from Nellore district also switched over to YSRC ahead of Jagan Reddy announcing list of candidates for Assembly and Lok Sabha seats on Sunday.
Prabhakar Reddy had already been named as a TDP candidate for Nellore rural assembly segment in the list released by Naidu on Thursday.
Vanga Geetha from the Kapu community, former MP and MLA who had earlier been member of TDP, mega star Chiranjeevi's Prajarajyam party and Congress, also joined Jagan Reddy's party.
A spokesman from the YSRC said on condition of anonymity that a senior minister in the Naidu's cabinet from the twin Godavari districts was also in touch with his party's leadership.
TDP spokesman Lanka Dinakar brushed aside the impact of turncoats on his party's electoral prospects, saying Jagan was only collecting "spent forces" the party had dumped.
Political analyst Vikram Poola said one cannot jump to conclusions over the mood of voters going by defections, a common feature among all parties at the time of elections.
Andhra Pradesh is scheduled to go to polls for 175 assembly and 25 Lok Sabha seats on April 11.
Personalise your news feed. Follow trending topics