Size of rural families shrinks: Sample registration system report
Mar 15, 2022 06:10 PM IST
The Total Fertility Level (TFR) – defined as the number of children a woman is expected to have in her reproductive age (15-49 years) – in rural and urban India in 2019 has been estimated to be 2.3 and 1.7
Smaller rural families and an increase in working-age population -- these are some of the findings from the latest report of the Sample Registration System (SRS; for 2019) which was released on March 13.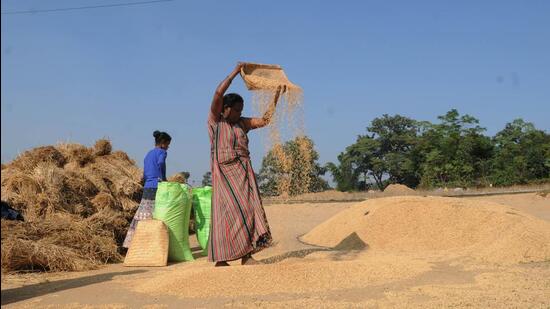 According to the report, families in India's villages are increasingly having fewer children, a trend that will bring down the size of rural households to around the same as their urban counterparts (which are smaller) in days to come. The Total Fertility Level (TFR) – defined as the number of children a woman is expected to have in her reproductive age (15-49 years) – in rural and urban India in 2019 has been estimated to be 2.3 and 1.7. Rural TFR is now closest to urban TFR since 2006, the earliest year for which this number is reported in the statistical SRS reports published online. In the 2006 SRS report, rural and urban TFR was 3.1 and 2. In the 2018 SRS, these numbers were 2.4 and 1.7.
The convergence in rural and urban fertility rates has an important bearing on the size of rural and urban households. According to the latest Periodic Labour Force Survey (PLFS) report, the average size of rural and urban households was 4.2 and 3.8 respectively n 2019-20.
The SRS report also supports some of the findings of the National Family and Health Survey which were released in November last year. To be sure, the similarity is directional rather than absolute.
SRS, which is conducted by the Office of Registrar General which comes under the Ministry of Home Affairs is the only official source of demographic data except decadal censuses in India. The census is also conducted by it. The latest SRS round has a sample size of 8.2 million and was conducted across all states of India.
Two sets of numbers from the latest round of NFHS conducted in 2019-2021 received a lot of attention: the TFR and sex ratio. NFHS reported a TFR of 2.0, which is lower than the replacement fertility level of 2.1. Replacement fertility level is the TFR at which a population can replace itself. A value of TFR lower than the replacement level implies that the population is going to decrease. SRS 2019 has reported a TFR equal to the replacement rate. A state-wise comparison shows that the difference between NFHS and SRS number is a result of a difference in the estimates of some of the most populous states. NFHS estimates of TFR in Uttar Pradesh and Bihar, for example, at 0.83 and 0.97 times that reported by the SRS. The biggest proportional under-estimation by NFHS is in Madhya Pradesh and Chhattisgarh. NFHS has under-estimated TFR in a total of 10 of 22 big states for which SRS estimates are also available. To be sure, NFHS has also over-estimated TFR in nine of these 22 states, some of them with large populations -- including Maharashtra and West Bengal.
The sex ratios reported by NFHS and SRS are not comparable. SRS only estimates sex ratio at birth (SRB) and based on data for the past three years while the NFHS fact sheets (the report and unit-level data is yet to be released) report both overall sex ratio and sex ratio at birth, but the latter is reported for the past five years. The sex ratio at birth in NFHS was 929 female children per 1000 male children. The number is just 904 in the SRS. To be sure, even SRS data shows an improvement in sex ratio at birth. It was 900 in 2015.
The SRS report also shows that India is already experiencing an increase in the share of what is roughly described as working age-population and that this is a trend which is likely to continue. The report shows that India became older in 2019, but because of an increase in the working age population rather than senior citizens. The share of those in the 0-15 age group decreased from 25.9% to 25.4% and that of the 15-59 age group increased to 66.5% from 66%. The share of the 60 years and above population remained unchanged at 8.1%. This is a trend that has been consistent from the 2012 SRS statistical reports. The share of the 0-15 age group has been decreasing and that of the 15-60 age group increasing, while the share of senior citizens has been relatively stable. In the census conducted from 1991 to 2011, the share of both working age population and senior citizens increased while that of children decreased.
To be sure, the latest SRS findings also underline the consistent improvement in India's maternal and child mortality indicators. Maternal mortality ratio (MMR), or maternal deaths per 100,000 live births, has decreased from 113 in 2016-18 to 103 in 2017-19. This is a proportionally faster reduction than recorded between 2015-17 (MMR of 122) and 2016-18. However, it is still a long distance from the Sustainable Development Goal of 70, which has been achieved mostly by southern states.
"With this persistent decline, India is on the verge of achieving National Health Policy (NHP) target of 100/lakh live births by 2020 and certainly on track to achieve the SDG target of 70/ lakh live births by 2030," the health ministry said in statement on the SRS report.
Like MMR, the under-five mortality rate, decreased from 36 per 1000 in 2018 to 35 in 2019. To be sure, this is a much slower rate of decrease compared to the rate of decrease seen earlier. For example, it decreased from 49 in 2013 to 45 in 2014; and from 43 in 2015 to 39 in 2016.
Continue reading with HT Premium Subscription
Daily E Paper I Premium Articles I Brunch E Magazine I Daily Infographics