Stop politics over name, protect Ambedkar statues, Mayawati tells BJP
The former UP chief minister also questioned Prime Minister Modi's silence on cases related to casteist oppression and Dalit atrocities.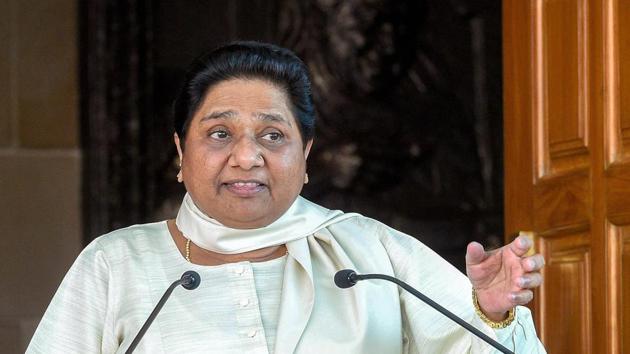 Updated on Mar 31, 2018 07:36 PM IST
Bahujan Samaj Party (BSP) president Mayawati blamed the Bharatiya Janata Party (BJP)-led governments in Uttar Pradesh and Gujarat for the desecration of Ambedkar statues and the murder of a Dalit man allegedly for owning and riding a horse.
She didn't spare the Narendra Modi government either for its alleged insensitivity towards these caste-based cases.
"Instead of making Baba Saheb 'Ramji Ambedkar' a part of a selfish motive, the Yogi Adityanath government in UP must set aside its insensitivity in dealing with casteist cases and act against the culprits," the BSP chief said and appealed to the people to maintain peace.
In a statement issued on Saturday, hours after Ambedkar statues were desecrated in UP, one each in Allahabad and Sidharthnagar, she said: "Rather than letting Baba Saheb Bhim Rao Ambedkar in his popular identity, the Yogi government is trying to make him Ramji Ambedkar to serve its political selfishness."
"The government instead should act with an iron fist against all those anti-social people so that such incidents do not take place again," she said.
According to Mayawati, the desecration happened because of a lack of intent to act against miscreants.
She said replacing the damaged statues with new ones won't solve the problem, and the government should implement law and order seriously.
The former UP chief minister questioned Prime Minister Modi's silence on cases related to casteist oppression and Dalit atrocities.
She accused the Gujarat government of protecting the culprits involved in the murder of a young Dalit man, who was killed after he allegedly refused to follow an upper-caste order to give up a horse he had bought. It has been alleged that Dalits are not allowed to ride or own horses, a traditional symbol of nobility.
"The poison of casteism is too widespread in Gujarat and the government was doing nothing to curb it," Mayawati said.
Close Story