Supreme Court ends centuries-old ban on entry of women into Kerala's Sabarimala temple
Sep 28, 2018 10:26 PM IST
A constitution bench led by Chief Justice of India (CJI) Dipak Misra in a 4:1 verdict held that restrictions on the entry of women in religious places for physiological reasons lowered her dignity.
Ending a centuries-old ban on the entry of women of menstruating age into the Sabarimala temple in Kerala, the Supreme Court said on Friday that exclusion on the basis of biological and physiological features was unconstitutional and discriminatory because it denied women the right to be treated as equals.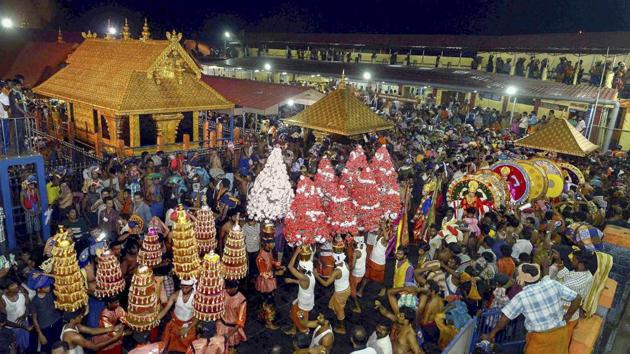 A Constitution Bench led by Chief Justice of India (CJI) Dipak Misra in a 4:1 verdict held that restrictions on the entry of women in religious places for physiological reasons lowered her dignity. CJI Misra, justices RF Nariman, AM Khanwilkar and DY Chandrachud ruled against the restriction, declining to accept it as an essential practice of a denominated religious group and said it was a form of untouchability.
"The dualism that persists in religion by glorifying and venerating women as goddesses on one hand and by imposing rigorous sanctions on the other hand in matters of devotion has to be abandoned. Such a dualistic approach and an entrenched mindset results in indignity to women and degradation of their status," said the judgment by CJI Misra,who wrote for justice Khanwilkar and himself.
The dissenting judge, justice Indu Malhotra, warned against judicial review of religious faith and belief and insisted on the need for balance between two rights – equality and the freedom to profess one's religion. "Notions of rationality cannot be invoked in matters of religion by courts," she said.
The majority judgment struck down as unconstitutional Rule 3(b) of the Kerala Hindu Places of Public Worship (Authorisation of Entry) Rules, 1965 framed in exercise of the powers conferred by Section 4 of the Kerala Hindu Places of Public Worship (Authorisation of Entry) Act, 1965 .
The top court overruled the Kerala high court's 1991 judgment upholding the restriction on the entry of women between the age of 10 and 50. The HC had accepted the contention that the 'Naisthik Brahmachari' nature of the presiding deity, Lord Ayappa, was enough to impose this restriction .
"Prejudice against women based on notions of impurity and pollution associated with menstruation is a symbol of exclusion. The social exclusion of women, based on menstrual status, is but a form of untouchability which is an anathema to constitutional values," justice Chandrachud noted . "The issue for entry in a temple is not so much about the right of menstruating women to practice their right to freedom of religion, as about freedom from societal oppression," he said.
The Centre welcomed the judgment. "I welcome the Supreme Court order to allow women of all ages to enter Sabarimala temple. Hindu religion is inclusive. God is equal to all, it's wrong to discriminate," said women and child development minister Maneka Gandhi. But privately, BJP leaders said they were troubled by the judgment and that the court should have been more careful in deciding on matters of faith. They also argued that now that the Sabarimala issue is decided, the same yardstick should be applied to issues of other faiths.
The Congress also praised the verdict and said religious beliefs and laws should evolve with society. "There can be no discrimination to worship on the basis of gender or otherwise. A welcome and progressive move towards gender equality by Supreme Court in Sabrimala," Congress leader Randeep Singh Surjewala tweeted.
The Kerala government called the verdict historic. "The government and Travancore Devasom Board (TDB) will make all arrangements to implement it. We will ensure smooth pilgrimage to women," said state temple affairs minister Kadakampally Surendran.
"Now women can choose if they want to go or not. Earlier it was imposed on them in the name of religion," said Rekha Sharma, the head of the National Commission for Women.
But the supreme priest of the Sabarimala temple, Rajeevaru Kandarau, said the verdict was "really disappointing". "It was part of the temple's age-old custom. It is really painful for me to dilute it. But since the court ruled it we have to go by it," he said. The judgment came on a bunch of petitions filed by non-government organisations and individuals. It was an exclusionary practice leading to a classification that lacked constitutional objective, the court was told.
The temple board justified the tradition and attributed it to the manifestation of the deity, who is believed to be a celibate. Senior advocate Raju Ramachandran, who was asked to assist the top court, supported the petitioners. Misra and Khanwilkar condemned societal attitudes centered around patriarchal mindset and remarked , "Faith and religion do not countenance discrimination but religious practices are sometimes seen as perpetuating patriarchy thereby negating the basic tenets of faith and of gender equality and rights."
The temple board's argument that devotees of Ayappa constituted a religious denomination was also turned down. "There is no identified group called Ayyappans. Every Hindu devotee can go to the temple. Devotees of Lord Ayyappa are just Hindus and do not constitute a separate religious denomination," the CJI's verdict read. "Patriarchy in religion cannot be permitted to trump over the element of pure devotion borne out of faith and the freedom to practise and profess one"s religion. The subversion and repression of women under the garb of biological or physiological factors cannot be given the seal of legitimacy," it said.
For justice Chandrachud, exclusion on the ground of menstrual status of a woman was tantamount to untouchability that applied to systemic humiliation, exclusion and subjugation faced by women, besides in relation to lower castes. "To treat women as children of a lesser god is to blink at the Constitution itself," he said. The fundamental right to profess religion was equally entitled to all persons, including women, held justice Nariman. He said the right claimed by thanthris who justified prohibition integral to their faith must yield to the right of women who cannot be denied the right to worship at any temple of their choice.
Rejecting the contention that the rules were due to the celibate character of the deity, justice Chandrachud said "the assumption in such a claim is that a deviation from the celibacy and austerity observed by the followers would be caused by the presence of women. Such a claim cannot be sustained as a constitutionally sustainable argument."