Wrapped with love: Telangana plans to gift Pochampally sarees to Ivanka Trump
Nov 27, 2017 08:03 PM IST
The government has chosen to highlight Pochampally handlooms by not only gifting it to VIPs, but also dressing volunteers in it.
The Telangana government is planning to gift US president Donald Trump's daughter Ivanka Trump, who will be in Hyderabad beginning Tuesday, a handloom silk saree woven in Pochampally.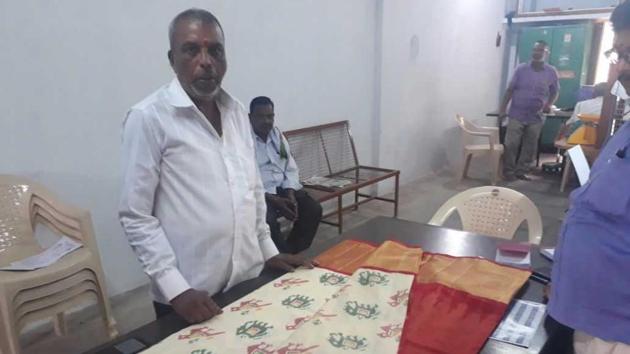 Besides Ivanka, other VIP women delegates attending the Global Entrepreneurship Summit (GES) are also likely to get the Pochampally saree as a memento from the state government.
Stay tuned with breaking news on HT Channel on Facebook.
Join Now
The exquisite Ikat sarees are made by weavers of Pochampally, a village in Yadadri Bhongir district, about 40km from the state capital of Hyderabad.
Officials have refused to comment on the kind of saree, its cost and other details of the gift to be given to Ivanka but weavers in Pochampally are jubilant over the promotion of their brand at the high-profile summit, where Ivanka will lead the US delegation.
"It will definitely bring a global recognition to this unique Telangana brand of saree. We are awaiting the day when she really wears our saree," Bharata Vasudev, president of Pochampally handloom weavers' cooperative society, told the Hindustan Times.
Vasudev said the uniqueness of Pochampally is the Ikat design, also known as Patola or Chikti in local parlance.
"Unlike in other brands, where the dyeing and designing are done after the saree is woven, Ikat design adopts tying and dyeing technique," he said.
Goverdhan, a weaver, said the Ikat design involves the transfer of intricate design and colouring onto warp and weft threads first and then weaving them together.
"The design of Pochampally sarees received the Geographical Indication (GI) status for intellectual property right in 2005 after a lot of struggle," he said.
Vasudev said the Pochampally saree was the most favourite dress of several women politicians in the country.
"Former prime minister Indira Gandhi used to wear our saree regularly and so does AICC president Sonia Gandhi. In 2003, Air India ordered Pochampally sarees for their cabin crew for a couple of years," he recalled.
"We hope Ivanka would love our Pochampally saree..."
Apart from the gifts to the VIPs, the government has also chosen to highlight Pochampally handlooms through its volunteers. As many as 500 volunteers, including 300 women, will wear handloom clothes made at Pochampally.
Women volunteers would wear cotton sarees and men would sport waistcoats on kurta and pyjama made of handloom clothes woven at Pochampally.
These trained volunteers, mostly fashion design graduates, have been entrusted with the task of receiving delegates at the airport, coordinating their summit participation and guiding them to various tourist spots.
"Alternatively, we have also supplied around 200 handloom cotton sarees of Gollabhama design made at Sircilla for the sake of volunteers," a handlooms and textiles department official said.