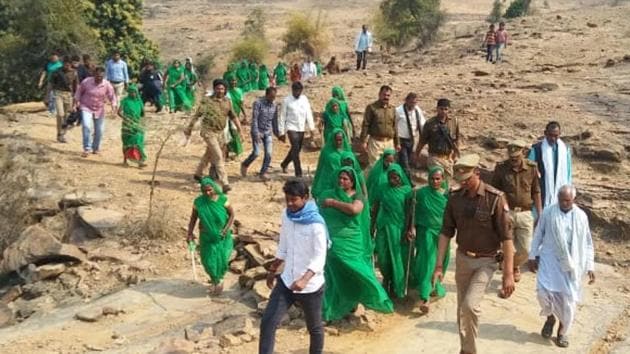 These green crusaders fight for the girl child in Varanasi villages
Away from the high-decibel campaign rallies for the last phase of Lok Sabha election, a group of women is quietly bringing in a change in Maoist-affected areas of Uttar Pradesh's Mirzapur district.
PUBLISHED ON MAY 15, 2019 12:01 PM IST
Away from the high-decibel campaign rallies for the last phase of Lok Sabha election, a group of women is quietly bringing in a change in Maoist-affected areas of Uttar Pradesh's Mirzapur district.
Led by Leelavati and Raushan Khatoon, these crusaders clad in green from head to toe have created their own way to encourage parents to welcome the birth of a baby girl in villages under Mirzapur.
Jangal Mahal, Bhavanipur, Saradeha Dhansiria, Rampur Chhattis, and Hinauta, where they work are just 50km away from Prime Minister Narendra Modi's parliamentary constituency of Varanasi. Polling will be held in the seventh and the final phase of Lok Sabha election in Mirzapur as well as Varanasi.
Social activist Ravi Mishra, who helped form the green crusaders' group, says nobody has spoken about girls' in poll rallies but "our campaign goes on". The crusaders are also not interested in talking about the ongoing Lok Sabha election. "Do cast your vote," is all they ask of people they meet.
"Birth of a baby girl is not welcomed in many families of the villages considered as Naxal affected. They consider girls as a liability," Mishra says.
"We came to know about one and a half year back when we were working with the green crusaders for their campaign against social evils in the region. Immediately, we planned Poshan se Protsahan Tak (From Nutrition to Encouragement) drive to ensure that the birth of every baby girl in these villages is welcomed," he says.
With a bucket full of fruits and dholaks and manjeeras, the green crusaders walk to every house where a baby girl is born in these villages to ensure their safety and nutrition.
They offer fruits to the new mother and honour them. Later, they speak to the father and ask him to provide his wife and daughter with proper care. They then celebrate the birth of the girl by singing sohar — a folk song sung after a baby's birth in rural areas — and distribute sweets.
He says the drive has generated very positive results in these villages under Mirzapur, which has a sex ratio of 906 females for every 1,000 males, and locals now think differently and celebrate the birth of the baby girls in these villages and also enrol their daughters in the schools.
The group says the government needs to focus more on rural areas, especially in distant villages, to promote girls' education.
Munni Devi says many locals used to be unhappy at the birth of a girl. Old mindset and several socio-economic reasons are also responsible for this outlook, Devi says, but their drive is bringing about change.
"As we are local, people listen to us and our efforts are bearing fruits," says Devi.
What is unique about the group is that all the members are homemakers and they look after their respective families. They run the drive, sparing time from their busy household chores.
Mishra says the group came into being four years ago with just ten women from the Khushiyari village of Varanasi. The group presently has around 200 green crusaders based in the hamlets of Varanasi and an equal number in Mirzapur.
These women get funds from a group of students and alumni of different universities, including Banaras Hindu University (BHU). With their support, the group has expanded and many women have now become a part of the effort.
These green crusaders also fight against alcoholism, dowry and gambling. They help victims of the domestic violence caused by alcoholism.
After a year of hard campaigning — raiding gambling dens and breaking liquor bottle — they have made Khushiyari free from alcoholism and gambling. They have also carried out their drive in Deora, Bhadrasi and Ramsipur and Jagardevpur of Varanasi and forced many to quit smoking and gambling.
Close