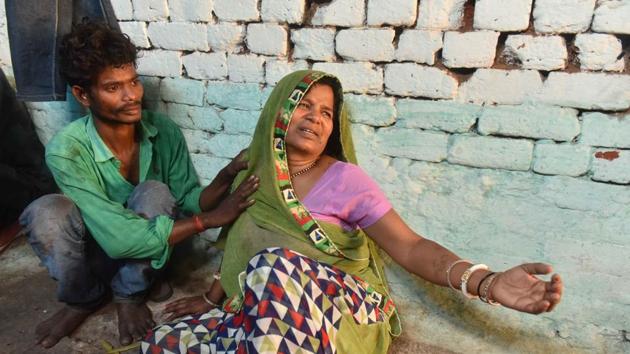 They had nothing to do with protests: Kin of victims killed in MP violence
At least 10 people were killed in widespread violence during protests by Dalit groups across the country against a Supreme Court ruling that they say diluted provisions of a law aimed at preventing atrocities against SCs and STs.
UPDATED ON APR 04, 2018 05:15 PM IST
The families of two men killed in Madhya Pradesh's Gwalior during Monday's violence that erupted during a shutdown called by Dalit organisations said on Wednesday they were ordinary people out to protect their own.
"Mera beta shaheed ho gaya apne logon ki raksha karte hue (My son was martyred while protecting his own people)," Draupadi Mahor said on Wednesday.
Her 22-year-old son Deepak was shot thrice and died on the spot in Thatipur area of Gwalior on Monday during the protests by Dalit groups – angered over an alleged dilution of the Scheduled Castes and Scheduled Tribes (Prevention of Atrocities) Act, 1989, across Madhya Pradesh and several other states.
Thatipur, the epicentre of the violence, has a big Dalit settlement with upper castes living across the road.
Deepak was among the eight people killed in Madhya Pradesh – four in Gwalior, three in Bhind and one in Morena – that saw the worst of clashes during the nationwide strike.
"My son was not among the protesters but when the upper caste people started firing at our people, my son came out to protect our people, family and cattle. He died while saving us," a grieving Draupadi said at their two-room mud house in the city's Galla Kothar area.
Deepak's elder brother Sachin said he saw that their bull had been shot and ran to save the cow standing near it and was hit by a bullet in his hand. Deepak then locked them inside their home and went to look for their father.
"After some time, a man came to our house to inform that Deepak was lying on the road. We rushed there to find him lying in a pool of blood. We dragged his body and put in a handcart to take him to a private hospital where the doctor referred him to a government hospital. There, the doctor declared him brought dead," Sachin said.
His father Mohan said on the ill-fated day, Deepak woke up early unlike other days to stop him from opening his tea stall due to the shutdown. He said Deepak told him they should support the community but not participate in any rally.
"At around 9.30 am, the protests intensified. We heard slogans of 'Jai Shree Ram' and 'Maaro maaro in logon ko' (Beat them up). I came out to see what was happening. People were shooting from both sides. Police shot a tear gas. I lost my way coming home as I was not able to see properly," Mohan said.
Deepak's dreams, Mohan said, were small but he was working hard towards it. "He wanted to construct a pucca house for the family. He worked as a labourer and saved Rs 40,000 to purchase a loading vehicle. Just four months ago, he purchased the vehicle by taking a loan. He was making good money. Just a few days ago, he told me 'Papa I will soon change our days'," Mohan wept.
Mohan came to know about Deepak's death much later. He was cremated late on Monday in the presence of his father and brother. "The district administration and police requested us to cremate him at night to maintain peace so we did it. We want justice for him," said Sachin.
Deepak's family had been voting for the Bahujan Samaj Party (BSP), but this time they voted for Bharatiya Janata Party (BJP) to see if it could bring any change in their lives. However, in their hour of grief, no politician stood by their side, they said.
Rakesh Jatav, a 40-year-old daily wage labourer who also died in the clashes in the city, was the only earning member of his family.
"On Monday, family members asked Rakesh not to go out in search of work but he told us he can't skip any day as he had to collect money for his daughter's marriage scheduled to take place in April," his cousin Purshottam Tamotiya, who is a BJP corporator, said.
Rakesh was waiting at Kumharpura crossing in Thatipur where daily wagers usually congregate looking for work, when he was killed.
"The situation worsened when a clash broke out between two groups. My brother ran towards his house but a bullet hit him and he died on the spot," Tamotiya said.
BSP's district convener Ratan Budha said right-wing activists and upper caste people fired openly on protesters. "Police and the district administration did nothing to control the situation," Budha added.
However, members of upper caste communities have blamed Dalits for the violence.
Yogendra Sharma, a resident Thatipur A block, alleged that Dalits attacked their houses, misbehaved with their family members, and snatched clothes and veils of girls when they refused to say Jai Bheem.
"I was in my office when I came to know about it. I saw a total mess. My kids were horrified and were vomiting out of fear. We were asking police to stop them but they appeared indecisive. We were left with no other option and we took our licensed weapons for self-defence," the government employee said.
Police and ground reports indicate caste tensions were simmering and the bandh acted as a trigger for differences to erupt. Gwalior superintendent of police Ashish said rumours that reservation would end and wild allegations on social media about violence added fuel to an already volatile situation.
This is the not the first time clashes between upper castes and Dalits have broken out in the area. Dalit organisations, including BSP, held a protest on January 26, 1997, against the opening of a liquor shop owned by an upper caste man. The protest left many people injured.
Close