This time it's likely we will be in a full-scale war with China very soon: Meghnad Desai
Indo Asian News Service, New Delhi |
Indo Asian News Service
Aug 04, 2017 08:51 PM IST
Desai, a Padma Bhushan recipient, said it is important to understand the Chinese thought process because they are "much more nationalistic, militaristic and aggressive" this time.
With India, the US and China forming a "very combustible mixture right now", the fate of the ongoing Doklam standoff would largely depend upon events in the South China Sea, noted commentator on international affairs, Meghnad Desai said.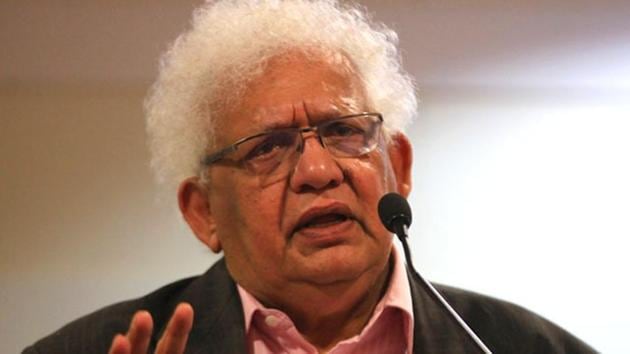 If a war is to break out in the two theatres, which he predicted will begin very soon, it will see the US and India on one side and China on the other.
Desai, a Labour Peer in the British House of Lords, did not consider the Doklam standoff a mere India-China issue but rather equated it to the geo-political tensions across the globe, primarily in the South China Sea.
"Even today, nobody is contemplating that the whole Doklam thing could break anytime. We could be in a full scale war with China within a month. At that stage it will not be controllable. It may come as a surprise, but that is when the defence co-operation of India (with various countries) will bear fruit," Desai told IANS in an interview.
But is a war really likely to break out?
"I am not a jyotisi (astrologer). I cannot say what day or date but I think at this time it is very likely that we will be in a state of full-scale war with China very soon. And mind you, on several fronts, not just Doklam. It is just one frontier, they will start from all places, across the northern Himalayas," Desai, a recipient of the Padma Bhushan, India's third highest civilian honour, claimed.
He said that India and the US have an "implicit defence relationship" and that the two countries can safely rely on each other. When asked specifically on the expected reaction of the United States in case there is a war between India and China and whether Washington would stand shoulder-to-shoulder with India, Desai responded: "Absolutely".
"Ultimately, you have to understand that India cannot stand up to China without American help and support. America cannot stand up to China without Indian help. That is the symmetry in this relationship," he elaborated.
Desai maintained that "China is the central problem" in the way the American vision is constructed. When asked about the possibility of any backchannel discussions with the US on the Doklam standoff, Desai said that there were not just backchannel negotiations in play but it was being dealt with at the highest level by President Donald Trump and Prime Minister Narendra Modi, who talk directly to each other.
"All things that follow now will have a lot to do with what happens in the South China Sea. The US has sent out enough signals. If there is war, it will be a US-China war, with India on the US side, in the South China Sea and in the Himalayas. This trio is a very combustible mixture right now," he contended.
He said that it is important to understand the Chinese thought process because they are "much more nationalistic, militaristic and aggressive" this time.
"I am sure we are not told everything that is going on. But my worry is even though India will not openly become militaristic but have we got the preparedness for it? We may have things in place. I just wish and hope that we are prepared for a very tough war which may last for a long time," he predicted.
Desai also suggested that India should not make the mistake of equating the Chinese People's Liberation Army (PLA) with the Pakistani Army.
"I think, from past experience, we always assume that we are well prepared but you will be fighting one of the finest armies in the world. It is a very powerful army and I think they also have (much) training in mountain warfare. So, according to me, it will be a very tough fight for India. Don't be mistaken that this will be easy. It is not Pakistan. The Pakistani Army is the same set of people. They come from the same army traditions and they have the same thinking but the Chinese are very different," he reiterated.
Desai also expressed his disappointment over "the lack of talent on the top" of the ruling NDA government. "Arun Jaitley is a very good friend of mine but you can't have a person handling both the finance and the defence ministries," he said and suggested that it is perhaps high time that the defence ministry was again made an exclusive portfolio, so that the concerned minister could focus entirely on it.
The Doklam stand-off began in mid-June near the tri-junction of India, China and Bhutan when Indian troops moved in to prevent China from constructing a road on Bhutanese territory on the Doklam plateau. China claims the Doklam plateau is a part of South Tibet.
Earlier this week, China claimed India had partially withdrawn its troops, which New Delhi firmly denied.