After 11 deaths in Sterlite protests TN govt shifts officials, suspends Internet, orders probe
Updated on May 24, 2018 10:07 AM IST
Anger and resentment against Tuesday's police action, which resulted in 11 deaths, simmer in Tamil Nadu. The government ordered several measures to control the unrest.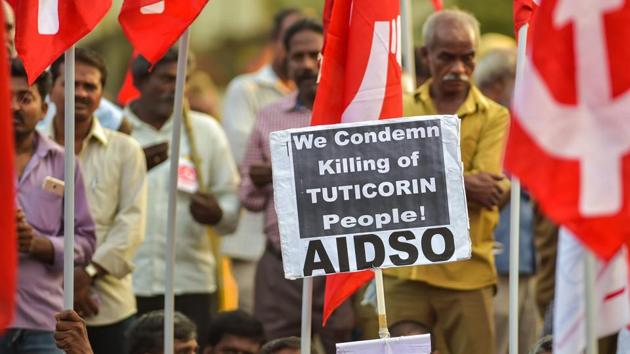 Chennai |
HT Correspondent and Agencies
A protester was killed after being hit by a rubber bullet in southern Tamil Nadu's Thoothukudi on Wednesday, a day after 10 persons were shot dead when police opened fire on a rally against a Sterlite copper plant.
As anger and resentment against Tuesday's police action continued to smoulder, the Tamil Nadu government ordered several measures to control the unrest. Internet services were suspended in Thoothukudi and neighbouring districts of Tirunelveli and Kanyakumari .
Tamil Nadu chief minister Edappadi K Palaniswami's government announced retired high court judge Aruna Jagadeesan will head a one-person commission to probe the violence. The commission has not been given a deadline.
District Collector N. Venkatesh and superintendent of police P. Mahendran were transferred. Venkatesh was replaced by his Tirunelveli counterpart, Sandeep Nanduri, while Mahendran made way for Nilgiris district police chief Murali Rambha.
The fresh round of violence came on the day the Madurai bench of the Madras high court ordered Vedanta group, which owns Sterlite, to stop construction of a second unit and the National Human Rights Commission sent notices to Tamil Nadu's chief secretary and director general of police (DGP) to give it a report within two weeks. The union home ministry asked the Tamil Nadu government to give it details about the violence.
On Wednesday, police fired rubber bullets at the crowd and sent volleys of live ammunition overhead after protesters in the port city earlier known as Tuticorin hurled home-made bombs and pelted stones at them, news agency AFP reported, quoting officials and witnesses.
"We fired live ammunition in the air to disperse the protesters. But the mob continued to pelt stones and bombs. They were setting fire to vehicles," a police officer told AFP. "We were forced to fire rubber bullets which unfortunately hit one man in the spine and he died," he added. Another police officer at the scene also said a 22-year-old man had died.
Opposition parties and environment groups called for the plant to be shut down permanently.
DMK leader M K Stalin, Leader of Opposition in Tamil Nadu assembly, accused Palaniswami's government of murder. "Chief Minister Palaniswami and DGP T K Rajendran should take up moral responsibility for the police action and resign," said Stalin, who cancelled his plan to attend the swearing-in ceremony of Karnataka chief minister H D Kumaraswamy's swearing-in ceremony to visit the families of the people who died in Thoothukudi.
Vedanta urged the government to ensure the safety of its employees and expressed "regret and sorrow" for the "incidents".
Tuesday's violence came on the 100th day of demonstrations against the plant, which environmentalists and residents claim is contaminating water sources -- a charge the company denies.
The plant, one of India's largest such facilities, has had a troubled history since it began operations in 1996. People have blamed it for their failing health and a major gas leak in 2013 led the Supreme Court imposing a ₹100- crore fine. The plant has been closed down repeatedly in the past two decade, the last time by the Madras high court in 2013 over similar pollution concerns.
(With inputs from AFP, PTI, and ANI)
Personalise your news feed. Follow trending topics