Hanuman chalisa plan by MLA-MP couple at Uddhav Thacekeray home sparks row
Apr 23, 2022 09:42 AM IST
Member of Legislative Assembly (MLA) Ravi Rana and his wife independent Member of Parliament (MP) Navneet Rana said they would chant Hanuman Chalisa outside Matoshree.
A warning by two Maharashtra leaders - Member of Legislative Assembly (MLA) Ravi Rana and his wife and Member of Parliament (MP) Navneet Rana - has prompted the Mumbai Police to tighten the security outside chief minister Uddhav Thackeray's Bandra home - Matoshree. Last week, Ravi Rana had threatened to chant "Hanuman Chalisa" - a hymn in praise of the Hindu God - outside the CM's home. The 'Hanuman Chalisa' row is the latest controversy brewing in the state days after Maharashtra Navnirman Sena's Raj Thackeray objected to the use of loudspeakers for azaan (Muslim prayer) at mosques.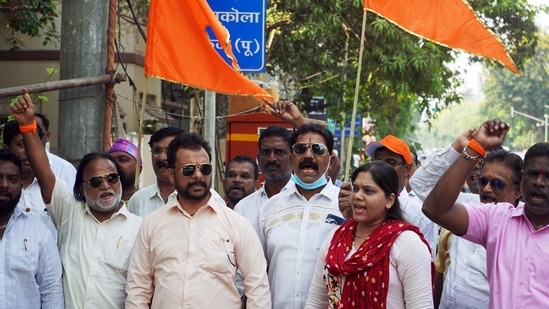 "Uddhav Saheb has forgotten Hindutva, the ideology on which he sought votes and got seats (for his party). He has forgotten the teachings of Balasaheb. So, we will recite Hanuman Chalisa outside Matoshree at 9 am on Saturday to remind the CM of Balasaheb's teachings. We will go peacefully and will not cause any inconvenience to Mumbaikars," he had told reporters.
On Saturday, while police personnel remained deployed outside the chief minister's home, Shiv Sena workers were seen protesting outside the couple's home in Mumbai.
In a video shared on the MLA's Facebook, the couple alleged that police were not letting them out. "Police aren't allowing us to step outside our house. Shiv Sena workers trying to attack our residence...We've always considered 'Matoshree' as a temple...Uddhav Thackeray only seeking political gains," Rana said.
"Amravati MP Navneet Rana and her husband want to tarnish the state government's image and spoil atmosphere. What's the need to chant Hanuman Chalisa outside 'Matoshree', they can do it in their home. They're doing this at behest of somebody," Maharashtra home minster Dilip Walse Patil said.
"They (MLA Ravi Rana and MP Navneet Rana) have challenged the law and order situation. They were prompted to do this by someone. Shiv Sena workers are here to protect 'Matoshree'," Sena's Anil Desai said.
(With inputs from ANI)