'Time was the key': Doctor-turned-IPS officer saves Bastar Maoist he shot at
Mar 25, 2017 08:34 AM IST
Abhishek Pallav, a doctor-turned-IPS officer in Bastar of Chhattisgarh, treats wounded Maoist after a seven-hour long encounter
The officer first shot at him and then saved his life. Hit by a bullet, Somaru, a Maoist commander, owes his life to an IPS officer who had engaged him in a fierce gun battle last week in the dense forests of Chhattisgarh's Bastar.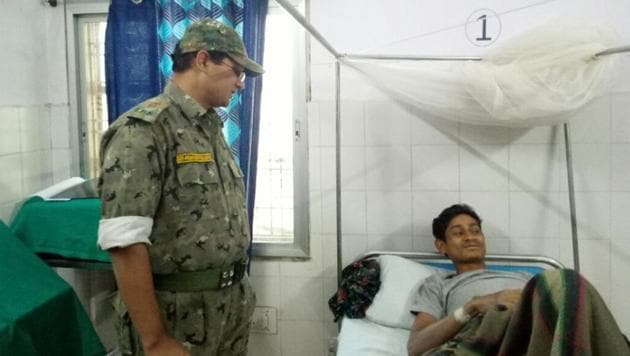 "Saheb saved my life," says Somaru, referring to Dantewada's additional superintendent of police Abhishek Pallav, as he recovers at a government hospital.
Carrying a bounty of one lakh rupees, Somara was hit in the abdomen by a bullet on March 18 during the seven-hour long encounter that left five Maoists and two policemen dead. Bleeding profusely and writhing in pain, his life was rapidly ebbing when Pallav, a doctor-turned-policeman, came to his rescue.
"Time was the key to saving his life as he was losing blood profusely and I being a trained doctor could not have looked the other way," says Pallav.
Before joining the IPS in 2013, Pallav from Begusarai in Bihar had been a practicising doctor, having done his MD from AIIIMS in 2009. Though a bit rusty, he had not forgotten his skills. Even as the gun battle raged, he bandaged the wounded Somaru, gave him painkiller injections and then sent him off to the nearest hospital in an ambulance.
"If he had bled for a few more minutes, he would have been dead," says Pallav.
But sending Somaru to the hospital was easier said than done. Bullets were flying and a policeman already lay dead, making the security personnel bay for blood. They wanted Somaru dead.
"Though a fugitive, he is an Indian citizen. He deserved treatment," says Pallav. He reasoned with his men and they finally relented to let Somaru be taken to the hospital.
Pallav's act has earned him fulsome praise from his higher-ups and yielded valuable intelligence on the Maoists from Somaru.
"What the officer has done is a brilliant example of how rules of engagement should be followed," admits DM Awasthi, the special director general of Chhattisgarh police. Often accused of excesses during their anti-Maoist operations, Pallav's humanitarian act could be a potential PR masterstroke.
Saving Somaru was also a good idea since he is a treasure trove of information on the Maoists. Police say a grateful Somaru is now singing like a canary and divulging secrets.
It was a tip-off that had led the police to the remote village of Chirmur across the river Malangir on that day. As the team approached, the Maoists opened fire and the police retaliated. More than 2700 rounds were fired with Pallav firing no less than 23 rounds.
The battle over, Somaru is receiving treatment under judicial custody. Pallav went to see him at the hospital the other day. Somaru was all smiles, signaling that the officer's heroism had swept away the enmity between the two.
"Exciting news! Hindustan Times is now on WhatsApp Channels
Subscribe today by clicking the link and stay updated with the latest news!"
Click here!
Get
Latest India News
along with
Latest News
and
Top Headlines
from India and around the world