Together for terror: Northeast rebels find shared enemy in nationalism
Updated on Jan 03, 2017 09:52 AM IST
Security analysts have attributed the rebels' resurgence to the upsurge in nationalist sentiments after the BJP came to power at the Centre.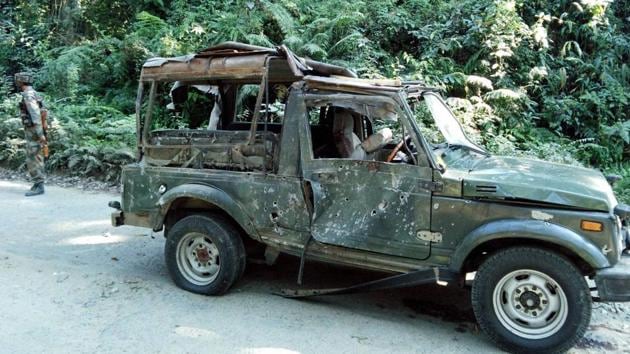 Hindustan Times |
Rahul Karmakar, Guwahati
In more than 60 years of insurgency, armed groups in the Northeast hardly stepped into each other's territories except for use as passages to and from hideouts across international borders.
They seem to have broken that unwritten rule now to help each other fight a common enemy — a "nationalistic, colonial India".
Take the case of the December 3 ambush that killed two Assam Rifles personnel in Arunachal Pradesh's Tirap district. The SS Khaplang faction of the National Socialist Council of Nagaland (NSCN-K) claimed responsibility, as did the Manipur-based Kanglei Yawol Kanna Lup (KYKL) and the Paresh Barua-led United Liberation Front of Asom-Independent (Ulfa-I).
Each claim stressed that the ambush was a joint operation.
Tirap, Changlang and Longding districts of Arunachal Pradesh are crucial for the NSCN-K's hit-and-run guerilla strikes from its jungle bases across the border in Myanmar. The outfit has been fighting the rival NSCN (Isak-Muivah) faction for control of these districts that yield "tax" from cannabis growers.
Manipur-based militants have no stakes in these districts, though the Ulfa-I members need the jungle paths for occasional raids in Assam.
There were similar "we did it together" claims for two strikes in three days at Pengeri in eastern Assam's Tinsukia district. Rebels fired at a cash van carrying wages for tea plantation workers on November 16, killing a civilian, and followed it up with an ambush on an army convoy, killing three soldiers.
Militants in Assam were believed to have been almost "neutralised" till the Pengeri attacks.
Read | ULFA(I) claims responsibility for attack on Army convoy in Assam
The "terror cooperative", as security analysts say, started with the ambush of 20 soldiers of the Dogra Regiment in Chandel district of Manipur on June 5 last year. The United National Liberation Front of Western Southeast Asia (UNLFW) formed two months before took credit for the hit along with CorCom, or Coordinated Committee, comprising six Manipur-based outfits.
The NSCN-K, which walked out of a 14-year ceasefire with New Delhi, is the firepower behind the UNLFW that has five non-Manipur rebel groups. The brain behind the UNLFW is Paresh Barua, the fugitive military chief of Ulfa-I who hobnobbed with Pakistan's Inter-Services Intelligence (ISI) and reportedly works for the Ministry of State Security, the Chinese intelligence agency.
Local nail, foreign hammer
Almost all insurgent outfits in the Northeast have been defanged, security experts say. Their foreign handlers have made it clear they are not worth investing in if they are on their own. The emphasis is thus on a collective force that can keep the armed forces engaged in the Northeast, shifting focus from the western border with Pakistan.
"Every small nail, hammered in by an unseen foreign hammer, has a purpose. So one has to look beyond seemingly local incidents for the bigger picture involving China and Pakistan," GM Srivastava, former chief of Assam and Tripura police, told Hindustan Times.
Read | Naga group claims army casualties in Indian ops against its rebels in Myanmar
Security officials say the Chinese, with ISI in the periphery, have found in Ulfa-I's Paresh Barua a pointsman to continue to irritate India in the Northeast. Barua is said to become a major arms dealer for Chinese firms such as Norinco.
"Barua operates from the Myanmar-China border. Manipuri militants introduced him to Chinese officials soon after Ulfa was born in 1979. He stayed in Yunan for two years, can speak Cantonese and has earned the confidence of his Chinese handlers," a paramilitary officer said.
Targeting nationalists
Assam Police DGP Mukesh Sahay admits there has been some resurgence of the Ulfa-I, perceived to have become a spent force, with help from other outfits in the region.
"The Ulfa-I has recruited some youth in recent times but we are ready to counter their activities."
Security analysts have attributed the rebels' resurgence to the upsurge in nationalist sentiments after the BJP came to power at the Centre.
Read | Leave by March 31, northeast rebel groups tell Hindi speakers, Bengalis
"Indian nationalism is anathema for militant groups that regard Delhi and Hindi speakers as colonialists who replaced the British to exploit the Northeast. Targeting the armed forces, supposedly controlled by nationalists, sends the signal to both nationalists and foreign powers backing them," an army intelligence officer said.
Attacks on security forces have been in Arunachal Pradesh, Assam, Manipur and Nagaland over the past six months. Assam is ruled by an alliance led by the BJP, while NDA allies rule Arunachal Pradesh and Nagaland. In poll-bound Manipur, ruled by the Congress since 2002, the BJP is said to be gaining ground.
Close Story
Personalise your news feed. Follow trending topics