Top security officials deny IS imprint in Kashmir, ask terror recruits to return home
Updated on Nov 19, 2017 09:35 PM IST
The Kashmir police DG SP Vaid made the remark a day after a major anti-terror operation in the valley in which six militants were gunned down.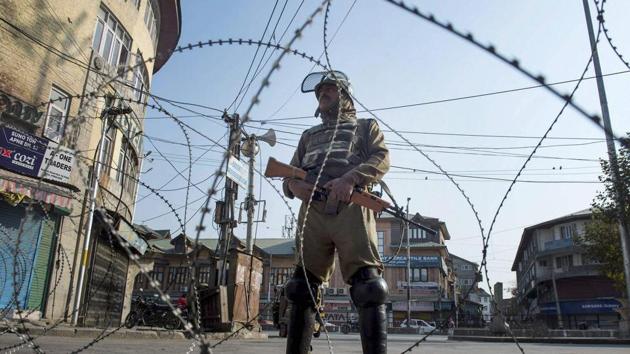 Hindustan Times, Srinagar |
Ashiq Hussain
Top security officials in Kashmir on Sunday sought to draw a distinction between local and foreign militants, urging Kashmiri boys to return home, promising to "receive them in an honourable manner".
The appeal came a day after six Pakistanis militants were killed in a gun fight on Saturday and a few days after a young footballer who joined militant ranks came back home after a video of his tearful mother was shared on social media.
"(Like Majid Khan's mother) I would request all mothers to ask their children to leave the path of violence," director general of police SP Vaid said at a press conference in Srinagar, adding they had managed to wean 60 youth away from guns.
Lt Gen JS Sandhu, who heads the army's Srinagar-headquartered 15 Corps, and Central Reserve Police Force inspector general (operations) Zulfikar Hassan, who were also at the press meet, joined Vaid in asking the local youth to shun violence and "stop being a proxy of Pakistan".
"The local terrorists must realise that it is easy to call yourself a Mujahid. But are you a Mujahid or are you just a proxy for Pakistan?" Sandhu said, using the Arabic word for the one who engages in Jihad.
The officers also shared helpline numbers to facilitate the return of the youth and urged their families and friends to get in touch if the men themselves couldn't.
"And we will help them. There will be no harassment and they will get help more than their expectations," Hassan said.
Sandhu said people of Kashmir wanted peace. "So let the local terrorists take a call now and come back we are ready to receive them in an honourable manner," he said.
The security forces have taken an aggressive stance against militants in the Valley Kashmir where violent street protests left more 100 people last year.
The government has also restarted the dialogue process, appointing a former Intelligence Bureau chief, Dineshwar Sharma, to talk to all stakeholders in Kashmir to seek an end to 30-year-old insurgency.
The officials said in 2017 they had carried out several successful operations in Kashmir region and the situation was changing.
"Today when I take stock what we are finding is that we have killed 190 terrorists as on date," Sandhu said. Eighty of those were locals, rest foreigners, he said, adding the unrest seen earlier in the year had been brought under control.
India accuses Pakistan of fanning trouble in Kashmir by pushing in militants and bankrolling a section of separatists.
Hassan said Majid Khan's return had encouraged others to shun violence. Twenty-year-old Khan joined the Lashkar but came back after a week following his mother's tearful appeal to return.
"We want to assure that anyone who joins militancy is free to come back. I am talking about the local Kashmiri youth and not the foreigners. Very strict action as was taken yesterday (against foreign militants in Hajin) will be taken," he said, referring to Saturday's gun battle.
Six militants, including a nephew of Mumbai terror attacks plotter Zakiur Rehman Lakhvi , were killed in Hajin in north Kashmir's Bandipora. An air force commando was also killed in the fierce gun battle.
After Saturday's encounter, the Hajin group had been eliminated, Sandhu said. He said Hajin was an area of concern because of heavy militant presence but they launched a number of operations since September and tasted success.
'No IS in the Valley'
DGP Vaid played down Islamic State's claim of carrying out an attack in Zakura on the outskirts of Srinagar in which a militant and a policeman were killed on November 17.
"It is yet to be verified. I don't think ISIS has any imprints here," Vaid said, calling the terrorist group by its other name, the Islamic State of Iraq and the Levant.