Tourism sector in focus as govt looks to boost jobs
Feb 02, 2023 12:40 AM IST
The tourism ministry, which has been allocated ₹2,400 crore, will cover the Integrated Development of Tourist Circuits around specific themes under the Swadesh Darshan scheme
New Delhi: Union finance minister Nirmala Sitharaman in her budget speech on Wednesday underlined the potential of tourism sector in promoting job opportunities for the youth of the country, even as the government is working on several schemes to identify thematic circuits and iconic destinations.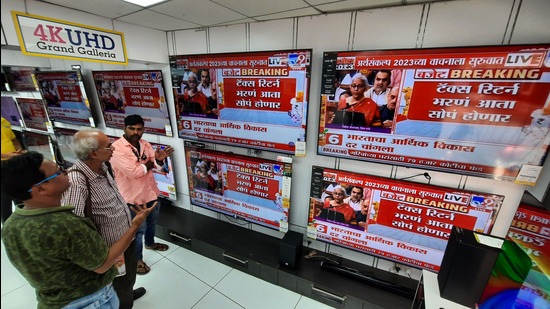 "There is a large potential to be tapped in tourism. The sector holds huge opportunities for jobs and entrepreneurship, for the youth in particular," Sitharaman announced in the Union Budget 2023-24.
Stressing that the country offers "immense attraction" for domestic as well as foreign tourists, she added: "Promotion of tourism will be taken up on mission mode with active participation of states, convergence of government programmes, and public-private-partnerships."
The minister further said that 50 destinations will be developed as a "complete package of tourism", adding that these destinations will be selected through challenge mode, using an integrated and innovative approach.
"States will be encouraged to set a 'unity mall' in state capital or the most popular tourist destination in the state for the promotion and sale of 'One District, One product' and GI products and other handicraft," she said.
The tourism ministry, which has been allocated ₹2,400 crore, will cover the Integrated Development of Tourist Circuits around specific themes under the Swadesh Darshan scheme. The objective of the scheme "is to develop theme-based tourist circuits on the principles of high tourist value, competitiveness and sustainability in an integrated manner by synergising efforts to focus on needs and concerns of all stakeholders to enrich tourist experience and enhance employment opportunities".
"Presently, there are 76 projects sanctioned under Swadesh Darshan Scheme covering 13 thematic circuits," the budget expenditure details.
Reacting to the Union Budget, Porus Doctor, partner and consumer industry leader, Deloitte India, said the focus on promotion of tourism will hopefully create more employment for the youth, encourage entrepreneurship and impact sectors such as hospitality, airlines, and food and beverages.
"Fifty destinations will be selected through a challenge mode. The announcement of new airports being developed along with allied infrastructure and tourism related businesses will further give opportunity for employment and entrepreneurs," he said. "For a common consumer, this budget will benefit through more money in their hands due to reduction in tax rates."
Domestic tourists' count in the country fell from 2.32 billion in 2019 to 677 million in 2021, as the Covid-19 pandemic severely impacted the sector, the government informed the Rajya Sabha in December last year. The number of domestic tourist visas in 2020 was 610 million.
Even foreign tourist numbers saw a massive dip from 31 million in 2019 to 7.1 million in 2020 and a little over a million in 2021.
The ministry added that on June 28, 2021, the Centre announced a stimulus package to boost diverse sectors of economy affected by the pandemic and provide impetus for growth and employment measures.
"The package comprises a total of 17 measures in three broad categories, which included 'economic relief from pandemic, with special focus on health and reviving travel and tourism sectors' and 'impetus for growth and employment'," the ministry said. "For the purpose of restarting inbound tourism and attracting foreign tourists in the country, the Government of India extended first 5 lakh (500,000) visas to the foreign tourists from potential tourism markets, free of cost. The benefit of free of charge visa was available only once per tourist during the issuance of the first 5 lakh tourist visas."
The contribution of the tourism sector to the GDP has averaged around 5% from 2015 to 2020 and it fell drastically due to the pandemic.