Tragedy strikes Muharram processions, 4 electrocuted, 27 hurt as Tazias hit power cables
Oct 02, 2017 02:35 PM IST
The high tension wires snapped when Tazias came into contact with live electric cables at Machipur and Milki villages of Bihar's Bhagalpur district.
Four persons were killed and 27 injured when high tension electric wires snapped and fell on Muharram processions after coming in contact with Tazias (replica of tomb of Husain, the martyred son of Prophet Muhammad,carried during the procession) at two villages of Bhagalpur district in east Bihar late on Sunday evening.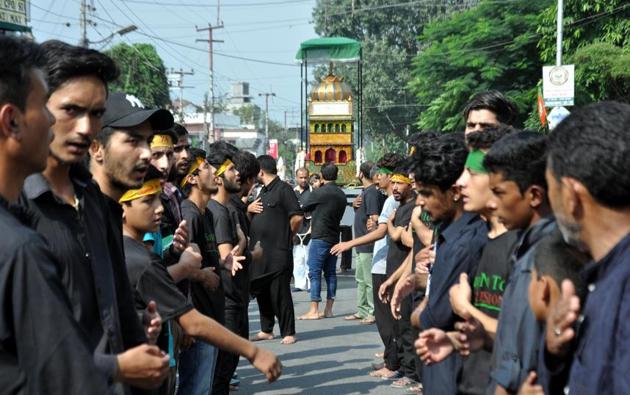 Two persons were killed and 20 injured in the first incident at Machipur village in Lodhipur police station area on the outskirts of Bhagalpur, 190 km east of Patna. The deceased have been identified as Mohammad Kamran and Mohammad Anzar.
Two other persons - Mahmood and Imtiyaz - died and seven others suffered burn injuries in the second incident at Milki village in Naugachia subdivision of the district.
All the injured are undergoing treatment at the Jawaharlal Nehru Medical College Hospital (JLNMCH), Bhagalpur. Eight of them had sustained serious burn injuries, JLNMCH sources said.
Bhagalpur senior superintendent of police (SSP) Manoj Kumar said "criminal negligence" of electricity department employees had led to the Machipur incident. Three employees posted at the power substation of the area were arrested late on Sunday night. The SSP said the powermen had ignored instructions to discontinue power supply during the Muharram procession.
Superintendent of police (SP), Naugachia (a police district within Bhagalpur), Pankaj Kumar Sinha, also blamed the mishap at Milki village on failure of power officials to discontinue electricity supply. The erring employees fled from the substation after the incident, he said, adding that FIR would be lodged against them.
The family members of those killed at Machipur have been paid a compensation of Rs 4 lakh each by the electricity department. The process to pay compensation to victims of Milki village was underway.