Two Gujarat officers, accused in fake encounters and reinstated after retirement, forced to quit by SC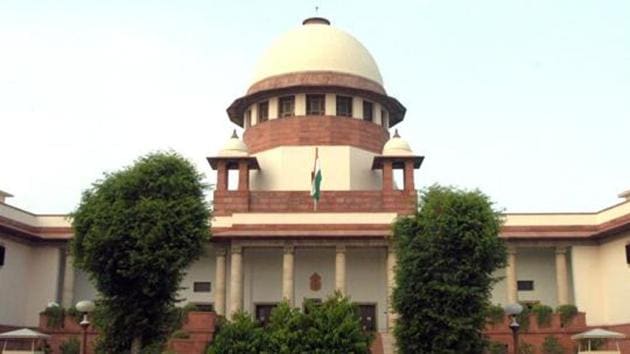 Updated on Aug 17, 2017 12:28 PM IST
Press Trust of India |
, New Delhi
Press Trust of India
Two senior Gujarat Police officers, NK Amin and TA Barot, who have been accused in encounter killing cases, undertook before the Supreme Court on Thursday that they will demit their posts during the day.
Amin, who retired in August last year as Superintendent of Police (SP), has been re-appointed as SP of Mahisagar district of Gujarat on contractual basis for one year. He faced trial in the Sohrabuddin and Ishrat Jahan fake encounter killing cases
Barot has been re-inducted in October last year as Deputy Superintendent of Police with Western Railways at Vadodara for one year after his retirement. He was accused in the Ishrat Jahan and the Sadiq Jamal encounter cases.
A bench comprising Chief Justice JS Khehar and Justice DY Chandrachud considered the statement of the lawyer appearing for the two police officers and asked them to "step down" from their posts during the day itself.
The bench then disposed of a plea filed by former IPS officer Rahul Sharma against re-induction of the two officers.
The ex-IPS officer, in his plea filed through advocate Varinder Kumar Sharma, has referred to the apex court's order allowing the Gujarat government to accept the offer of state's top cop PP Pandey to relinquish posts of director general and inspector general of police.
Sharma had challenged the Gujarat high court's decision dismissing his plea against re-induction of the two officers.
The plea alleged that Amin had been charge-sheeted by the CBI in the two encounter cases and has already spent "close to eight years in judicial custody" and was immediately re-instated as the SP after getting released.
"Moreover, Tarun Barot is also a charge-sheeted accused in two different cases of abduction and murder of various persons. He too was arrested in the afore mentioned cases and spent close to 3 years in judicial custody.
"The respondent state has preferred to re-appoint Barot immediately after his release as DySP, (Head Quarters), Western Railways at Vadodara," it had said.
Appointments have been made despite "bearing in mind the questionable track record of the two officers" and these are in violation of guidelines of the Supreme Court and in violation of "the doctrine of public trust", the plea had said.
"In fact, the said appointments are even de hors to the circulars referred to by the respondent state itself as these circulars prescribe that re-appointments/extensions shall be preferred only in cases where the officer being preferred for re-appointment/extension has outstanding merit and in cases where no suitable replacement is found for the seat being vacated provided that the state establishes that it has carried out the exercise to find a suitable replacement," the plea had said.
The Supreme Court had yesterday directed the Gujarat government to take a call by today on the re-induction of Amin as superintendent of police after his retirement, observing he had serious charges against him and had spent eight years in jail.
Close Story
Personalise your news feed. Follow trending topics