UP govt extends deadline for registration of madrassas by 15 days
Press Trust of India |
, Lucknow
Press Trust of India
Sep 17, 2017 04:42 PM IST
The Uttar Pradesh government today extended the deadline for all madrassas of the state to register themselves on the state government's website by 15 days.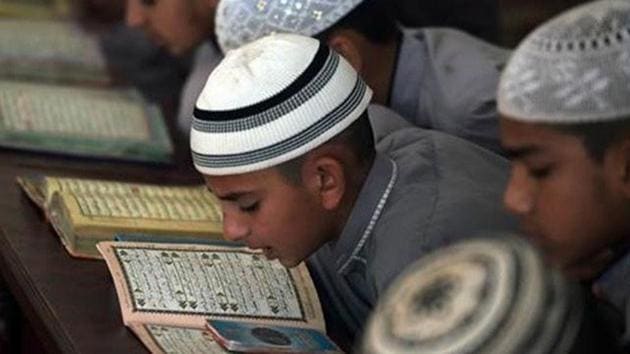 The last date for registration is September 30, Minority Welfare Minister Laxmi Narayan Chaudhary told PTI.
He said there were some technical bottlenecks, which have been removed.
"The last date for all madrassas of the state to register themselves by submitting all the relevant information on the website has been extended by 15 days," Chaudhary said.
"Till now, as many as 2,500 madrassas have uploaded all their information," he said.
The UP government had on August 18 launched a website related to madrassas, and orders were issued to upload all the relevant information pertaining to the managing committee of the madrassa, teachers, students and other information by September 15.
The aim behind the move was to stop irregularities in the madrassas and bring a qualitative improvement in the madrassas.
At present, there are 19,000 recognised madrassas in the state. As many as 4,600 partially-funded madrassas are there in the state, while the number of 100 per cent funded madrassas in the state stand at 560.
Welcoming the decision, general secretary of Teachers Association of Madaris Arbia (an association of madarassa teachers) Deewan Sahab Zama said, "This is a good move. It will give some more time to the madrassas to share all the relevant information. However, during uploading the details, there are some technical glitches."
On September 12, Balendu Kumar Dwivedi, the district minority officer of Lucknow had written a letter to Rahul Gupta, the registrar of UP Madrassa Shiksha Parishad, highlighting some of the difficulties faced by the madrassas while uploading their relevant information.
In his letter, Dwivedi had said, "In the first phase of registration of madrassas, the website asks to submit the mobile number of the madrassa manager, and only then it will move ahead.
"There are many madrassas where management dispute is going on in various courts, hence there is a dilemma that whose number is to be given."
Another problem highlighted was the absence of 'edit' button on the website, which may be used to edit information pertaining to various appointments and other activities, Dwivedi said.