UP govt makes Ambedkar's portrait mandatory in all its offices from April 1
The Yogi Adityanath government also decided to introduce 'Ramji' as the middle name of Dr BR Ambedkar in all official correspondence and records in Uttar Pradesh.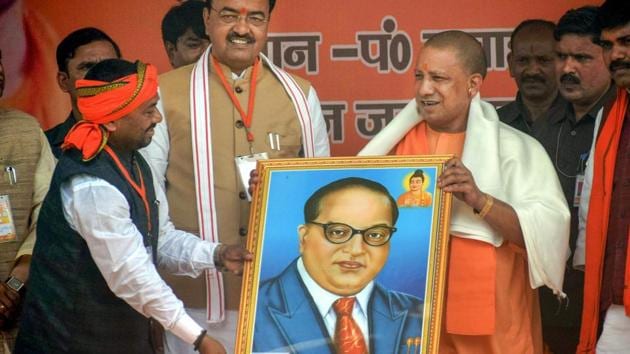 Updated on Mar 29, 2018 09:40 PM IST
The Uttar Pradesh government has made it mandatory for all government offices in the state to have a portrait picture of Dr BR Ambedkar from April 1.
"The state government had on Wednesday issued an order that Baba Saheb's name should be mentioned as Dr Bhimrao Ramji Ambedkar in all government documents. Dr Ambedkar's picture has also been made mandatory at all government offices from April 1," UP health minister and government spokesman Sidharth Nath Singh said.
Attacking the opposition parties, Singh said: "Those who cannot address Baba Saheb the way he himself signed his name, how will they follow his principles and ideals?"
"The country or a state should not run in the name of a particular family. It should run on the principles and ideals of great personalities. At least the names of great personalities whom people follow should be taken correctly," he said.
Attacking the Bahujan Samaj Party (BSP) president Mayawati, Singh said she had been using Dalits for votes.
Close Story