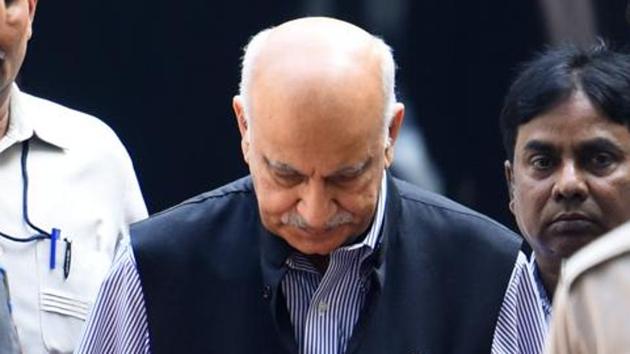 'Consensual relationship': MJ Akbar denies rape charges by US-based journalist
The latest allegation of rape against former Union minister M J Akbar was levelled against him by Pallavi Gogoi, the chief business editor of National Public Radio (NPR), a Washington-based American media organisation.
UPDATED ON NOV 02, 2018 05:47 PM IST
Former minister MJ Akbar came out with a fresh statement on Friday, this time to counter to US-based editor of a leading media house who has accused him of raping her in India 23 years ago. He said it was a "consensual relationship".
Akbar's wife also backed him on the rebuttal, insisting that two journalists who had accused her husband of sexual harassment, would often be at her house, "happily drinking and dining with us".
"Neither carried the haunted look of victims of sexual assault... I don't know Pallavi's reasons for telling this lie but a lie it is," she said, explaining her decision to issue the statement, her first. Both statements were released simultaneously to news agency ANI.
In his counter, Akbar underlined that Pallavi Gogoi and he had entered into consensual relationship in 1994 that continued for several months. "This relationship gave rise to talk and would later cause strife in my home life as well," he said.
Akbar stepped down as junior foreign minister last month after more than a dozen women journalists accused the former journalist, a former editor of The Telegraph, Deccan Chronicle and The Asian Age newspapers, of inappropriate behaviour. He responded by suing journalist Priya Ramani, who sparked off the barrage of allegations, for criminal defamation in a Delhi court.
The latest allegation of rape that has forced the Akbar couple to issue the statements was levelled by Pallavi Gogoi, the chief business editor of National Public Radio (NPR), a Washington-based American media organisation.
She detailed the "most painful memories" of her life in an article in The Washington Post, accusing Akbar, the editor-in-chief of the Asian Age newspaper at that time, of using his position to prey on her.
Gogoi said she was 22 when she joined the Asian Age. She was star-struck working under Akbar. She was mesmerised by his use of language, his turns of phrase and took all the verbal abuse. At 23, Gogoi became the editor of the op-ed page which was a big responsibility at a young age, she said, detailing how Akbar physically and mentally harassed her for years while working at the Asian Age newspaper from New Delhi to Mumbai to Jaipur to London.
Close