US ends waiver but India may continue to buy Iran oil
Updated on Apr 23, 2019 07:00 AM IST
The United States on Monday said it will stop in May all waivers that allow eight nations, including India, to buy Iranian oil without facing sanctions, triggering a rise in global crude prices and a slump in Indian markets..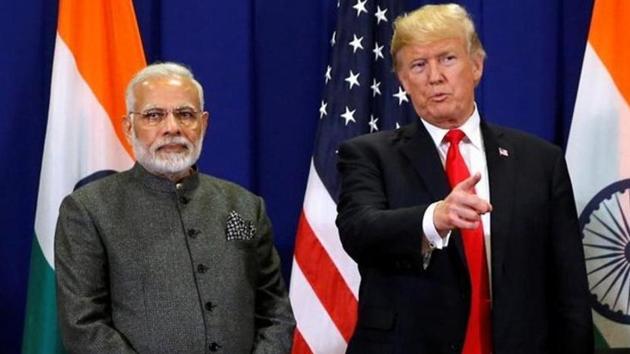 Hindustan Times, Washington/New Delhi |
Yashwant Raj and Rajeev Jayaswal
The United States on Monday said it will stop in May all waivers that allow eight nations, including India, to buy Iranian oil without facing sanctions, triggering a rise in global crude prices and a slump in Indian markets.
The decision, taken by US President Donald Trump to pressure Tehran to give up its nuclear weapons and ballistic missile programmes, sent oil prices to their highest in 2019, though the White House said it was working with top oil exporter Saudi Arabia and the United Arab Emirates to ensure the market is "adequately supplied".
"President Donald J Trump has decided not to reissue Significant Reduction Exceptions [SREs - as the waivers are called] when they expire in early May," the White House said in a statement. "This decision is intended to bring Iran's oil exports to zero, denying the regime its principal source of revenue."
India was among eight countries granted waivers from the secondary impact of sanctions for six months to taper their import of Iranian crude to zero. The others were China, Japan, South Korea, Turkey, Taiwan, Italy and Greece. Since November, three of the eight — Italy, Greece and Taiwan — have stopped importing oil from Iran. The others have not, and have lobbied for the waivers to be extended.
"Any nation or entity interacting with Iran should do its diligence and err on the side of caution. The risks are simply not going to be worth the benefits," US secretary of state Mike Pompeo told a news briefing.
People familiar with developments said the Indian government was studying the implications of the US decision and would make a "statement at an appropriate time".
Government officials, who asked not to be named, said Indian companies are unlikely to completely halt imports from Iran.
"Even in past, despite US sanctions, Indian refiners continued to import crude oil from Iran, although in a reduced quantity," one of those officials said.
The people cited above said the absence of a formal reaction from the external affairs ministry was an indication that India was looking at the possibility of finding some sort of workaround by engaging with the US within the next few days.
"It won't be an easy choice but a nuanced way out has to be found to see us through," a person said. "A strong reaction at this stage would have closed our options. For the US, Iran is a bigger enemy than India is a friend."
Countries or companies found in violation of the US curbs will run the risk of secondary sanctions, which would block them from the US financial system. They would also be prevented from trading with the US and conducting US dollar transactions with other countries.
US officials did not specify if Iranian crude buyers will be hit with sanctions on May 3 and after for receiving oil shipments already paid for in advance.
The waiver from sanctions for Iran's Chabahar port, which is being developed by India for trading with Afghanistan and Central Asia, will remain in place. The Trump administration had exempted it in November — calling it an "exception" — citing the "close relationship" with India.
India will also be watching out in early May for a notification regarding removal from a zero-tariff US import scheme, the Generalized System of Preferences (GSP).
In the last decade, India's oil imports from Iran first dropped in 2012-13 due to sanctions by the European Union (EU) and the US. After two fiscals, they were ramped up from the 12-13 million tonne range to 27.2 MT in 2016-17. In the financial year that ended on March 31, India imported 23.5 MT.
India purchased on an average 620,00 barrels per day in May 2018, going up from 320,000 in 2011. Ahead of the Trump administration's snapping back sanctions in October 2018, it was buying 354,000 barrels a day, which dropped to 285,000 this February, according to a compilation of data by the Congressional Research Service, a non-partisan body that conducts studies and prepares briefs for lawmakers.
A senior executive at a state-run refinery said the sanctions are unlikely to hit supplies. "We are waiting and watching. Our crude oil sourcing is quite diversified, hence the sanction would not have any major impact on our business," the executive said.
Analysts said the move is likely to keep crude oil prices elevated for now. "Due to this, we expect Brent crude oil price may test $78 to $80 per barrel. Iran is the second-largest producer in the Opec [Organization of the Petroleum Exporting Countries] group," said Anuj Gupta, deputy vice president, commodities and currencies research, Angel Broking.