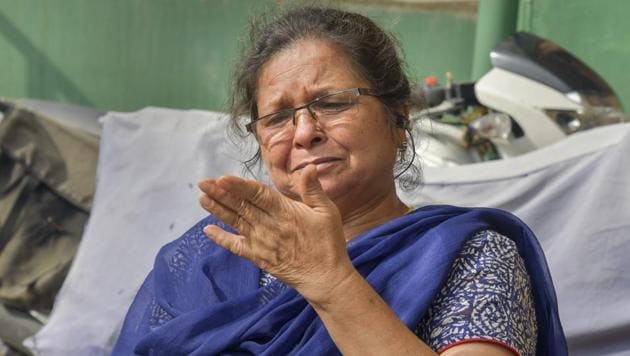 Uttarakhand govt on damage control mode, calls up principal suspended for arguing with CM Rawat
Facing backlash from opposition parties and teachers' groups, the BJP government in Uttarakhand set an appointment with the suspended principal Uttara Pant Bahuguna, and assured her of justice.
UPDATED ON JUN 30, 2018 09:31 PM IST
Under attack from opposition and teachers' groups, the BJP government in Uttarakhand has reached out to Uttara Pant Bahuguna, the school principal who argued with chief minister Trivendra Singh Rawat in public on Thursday.
Bahuguna (57) said she had been contacted by school education minister Arvind Pandey on Saturday morning. "The minister has promised me to meet on July 3 after he will return on July 2. He assured me of justice and also of transfer," she said.
She was charged with indecent behaviour and suspended from service for allegedly hurling abuses at the chief minister during a public grievance redressal meeting in the state capital.
Bahuguna, who is the principal of Government Primary School in Uttarkashi, had demanded transfer to Dehradun on personal grounds. Her husband had expired some time back and she wanted to take care of her family, but was refused.
Congress had backed her demand and so did several government teachers' association across the state after a video of the incident went viral on internet, causing major embarrassment for the ruling party.
BJP state spokesperson Munna Singh Chauhan reacted to the row, saying, "The CM has already instructed the department to look into the matter (transfer) the same day. She could be transferred in the district cadre (Uttarkashi) as per norms."
"After all the insult I have faced, this is the price the chief minister and his government needs to pay," Bahugna said on the reactions on social media.
Several Twitter users have come in support of her. A user named @UnitedIndian15 had posted "Suspension should be challenged in court. It is shameful for a CM at a Janta Darbar first insults the lady by rudely ordering to take her out of the venue. @tsrawatbjp should apologise to this lady in a public forum."
@DwarikaNautiyal said, "CM of uttarakhand should understand the pain of its Janta or quit as we don't want such egoistic CM ... cant catch rapist n hang murders .. but very candid in ordering school teacher's arrest ... its a disgrace !!!!'
@Chandrika_Mukut wrote, "It's a shame to witness the sensitivity of BJP towards a woman. I feel disgraced to have supported BJP."
Close