Vegetable, milk prices soar in several states as farmers remain divided over protest
A farmers' organisation in Punjab called off its protest after a clash between protesters and milk suppliers, but in other places the farmers announced plans to intensify the agitation.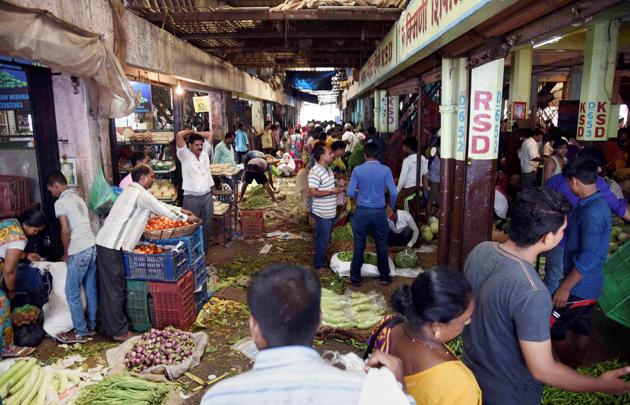 Updated on Jun 04, 2018 11:11 PM IST
Hindustan Times, Mumbai/Chandigarh/Jaipur |
HT Correspondents
A farmers' organisation in Punjab called off its protest on Monday after a scuffle between protesting farmers and milk suppliers in several parts of the state on day four of the Goan Bandh (village blockade) even as prices of vegetables, fruits and milk continued to soar in several cities like Delhi, Mumbai and Chandigarh.
Balbir Singh Rajewal, president of a faction of Bharatiya Kisan Union (BKU), said there were reports of fracas between protesting farmers and milk suppliers in Amritsar, Faridkot, Mohali, Moga, Gidderbaha and some other places in the past two days. "I have never supported any violent stir. There was no support from the state government and the situation was going out of hand at some places. We do not want any clashes," he said, justifying the decision to call off the agitation in the state.
However, in many other parts of Punjab, tension prevailed as farmers tried to prevent other farmers and traders from carrying vegetables, fruits and milk to urban areas. Traders clashed with farmers in Gidderbaha town, forcing police to intervene who then booked two farmers.
The decision to stop supplies from June 1 till June 10 was taken by farmers under the banner of Kisan Ekta Manch and Rashtriya Kisan Maha Sangh to press for minimum income guarantee scheme, implementation of Swaminathan Commission report, and waiver of farmers' debt.
Elsewhere, a farmers' organisation announced plans intensify the agitation. "The government hasn't fulfilled promises it had given last year. We have no option but to intensify our protests," said Ajit Nawale, state general secretary, All India Kisan Sabha, one of the farmers' unions participating in the strike.
Disruption in supply has led to a sharp rise in prices of vegetable and milk in Jaipur as well.
"Jaipur Dairy alone has suffered a loss of nearly ₹1 crore as anti-social elements spilled nearly 60,000 litres of milk on roads. Twelve tankers were vandalised. Jaipur Dairy has lodged eight-nine FIRs for damaging and manhandling employees," said Om Prakash Punia, chairman, Jaipur Dairy.
"The prices of vegetables have increased by 25%-30% in the last three days because of restricted supply," a vegetable vendor at Muhana vegetable market said.
In Madhya Pradesh, farmers spilled milk and threw vegetables on roads at several places after which the police arrested some of the farmers. In Betul district, six farmers were held and later released on bail after they threw vegetables on road. Farmers in Khargone also threw vegetables while at Neelbad in Bhopal, vegetable growers distributed free vegetables among people to register their protest against the government's policies.
Inspector general (intelligence) Makarand Deoskar said Patidar leader Hardik Patel will not be allowed to hold any public meeting in the state till June 10 due to the ongoing agitation.
In Maharashtra, police claimed to have foiled immolation bids by two Congress legislators near district headquarters in Amravati. "Legislators Virendra Jagtap and Yashmomati Thakur were detained just before they could pour kerosene and set themselves ablaze," said Chinmay Pandit, deputy commissioner of police.
Jagtap said they decided to take the step to protest against the failure of the agricultural produce market committee (APMC) to start procurement of 'tur' (a pulse variety) and 'harbhara' (gram) to provide relief to farmers. Market associations in Maharashtra claimed that prices of fruits and vegetables have increased by about 10% in most cities, including Mumbai and Pune.
Close Story