WATCH | Man boards Vande Bharat for selfie, gets stuck. TC asks, 'are you mad?'
Jan 18, 2023 01:42 PM IST
In the 38-second video shared on Twitter, the man can be seen telling the ticket collector that he boarded the train only to click a picture and also requests him to open the door so he can get down.
A Telugu man who boarded a Vande Bharat Express to take a selfie found himself stuck inside after the automatic doors closed ahead of its departure. A video of the perplexed man trying to get out has been widely shared online and shows him attempting to open the door before the ticket collector (TC) comes in and tells him the system has locked the exits.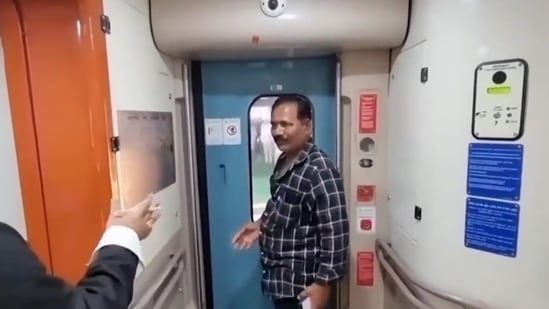 In the video the man - who got on the train at Rajahmundry - tells the TC he only got on the Vande Bharat to take a photograph and asks him to open the door as he wants to deboard.
Also Read | 'Better than airplanes': Railway Minister terms Vande Bharat 'outstanding' train
"Once the door is locked, it cannot be opened… it is automated. Who gets inside the train to click a picture? Are you mad?" the irked TC can be heard responding.
The video shows the man fidgeting around as he tries to figure out a way out of the pickle.
The man then asks the ticket collector for a solution. To this, the TC and another man - apparently a Railway official - tell him he can now only get down at Vijayawada.
The TC and the second official can be seen breaking into mild laughter as they inform the hapless 'passenger' that Vijayawada - around 160 km from Rajahmundry - is the next stop.
Hindustan Times cannot independently verify the video.
One post of the video was shared by a Twitter user named Dr Kiran Kumar Karlapu and has surpassed 391,000 views at the time of writing this report.
"Telugu uncle got onto the Vande Bharat train in Rajamundry to take a picture and the automatic system locked the doors once the train started moving. Loving the way, the TC says, 'now next is Vijayawada only'," the user posted the 38-second clip with a caption.
Prime Minister Narendra Modi flagged off the eighth Vande Bharat Express train of India on Sunday (January 15). It connects Telangana's Secunderabad to Andhra Pradesh's Visakhapatnam, and reduces the travel time between the two regions - a distance of 700km - to 8.5 hours from 12 hours. The train has a capacity of 1,128 passengers and only has reserved sitting facilities.